A power supply circuit is what importance for various electronic projects. My website have big size grow up every day, Some time you may look for difficult. So I collect them (over 150+circuits) on Category: Power supply circuit as sidebar. But We want you to save time,it is therefore recommended circuit below, with the PCB and easy to build and low price for beginner and all happy.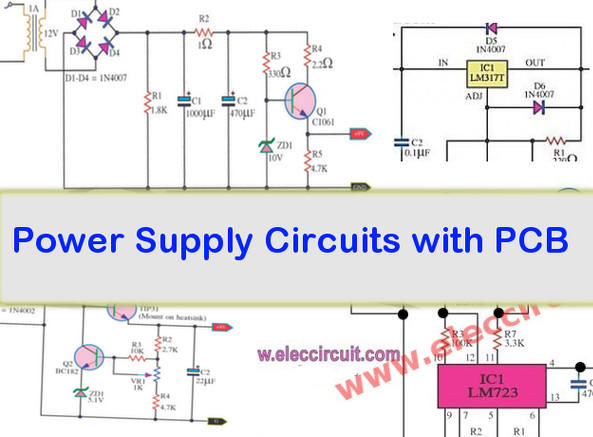 Power Supply for Electronic Circuits
1. Battery
A lot of Circuits use a few power can be powered by batteries. This is small and easy to use anywhere. But normally it low voltage best for low current using. We should rechargeable batteries to reuse many times to save money a lot. I like my children use them because it safety for him.
2. Solar
We can use it as solar power our circuit directly, But we like to use it is solar charger for a rechargeable battery. Eg. My son like to make the solar light
3. AC Line
We use AC line that basic is AC Adapter. They is units compact and easy to use than battery and can apply in various output voltage and currents as we need. When we are a home popular use them instead batteries and solar it save.
Caution: We must to use it carefully Safety first it many useful but also can kill you!
In our site have a lof of the power supply circuit. We cannot show you all. thus for save you time see list below.
Power Supply Circuit are Recommended
My first Variable DC Power Supply Circuit, 1.2V to 30V 1A using LM317
I like to use it, because it's easy to use, easy to create, and good to save. For example, if you want to replace it with 1.5V battery, it's easy.

5V, 6V, 9V, 10V, 12V, 1A Fixed Regulated using IC-7805, IC-7806, IC-7809, IC-7810,IC-7812


They are the best popular 1A fixed DC Regulators for me, it is easy and cheap For example when we need to use 5V 1A for a normally digital circuit we usually use LM7805-IC is cheaper.
1.2V-25V, 3 amps, Adjustable regulators using LM350T
I sometimes need to use 3A variable voltage source. But LM317 cannot help me easily. In short time we use LM350T it is best linear [email protected]
0-30V, 3A Adjustable DC Supply
We seldom use 3A Current that can adjust 0V to 30V output. This is better choice. It use LM723 that is best other one DC voltage regulator IC, but moden design circuits. With full protection than LM350T but expensive than it.

0-50V Variable Voltage output @3A


If we need to use voltage output over than 30V or adjust 0V to 50V, we can use it. They has also LM723 as key part and higher voltage 2SC5200 transistor and with full protection over load current. You will like it same us.

Simple Zener diode voltage regulator circuits


Here is a simplest DC fixed regulator circuit. It include zener diode as act a reference voltage and a transistor to increase current up to output. Although the TDA2030 can deliver 20 watts of output power
Fixed Volts regulator :  3V ,  6V , 9V , 12V 
9 volts
Low volts
Low Drop Out Voltage
Simple and Ideas
Adjustable Power Supply Circuit
Under 1A
2A Output Current
3A Output current
High Current (5A up)
High voltage (100V up)
Multiple Voltage Output
Transformerless
Constant current Source
…
All tags:
Some times you may do not have idea or difficulty search any projects TAGs may be can help you!
:: 5V :: 6V :: 9V :: 12V
:: 0-30V :: Switching :: Dual output
:: 5V Switching :: Protection
::Multi voltage :: 12v switching :: DC15V
:: Negative :: AC high voltage
:: Power supply units :: 10A :: Mini supply
:: Transistor Power supplies :: Transformerless :: 50V
Note :
All DC switching power supplies
---
JLCPCB – Free Shipping on First Order + $2 to Prototype PCBs
China's Largest PCB Prototype Manufacturer, 290,000+ Customers & 8000+ Online Orders Per Day
10 PCBs Price: $2 for 2-layer, $15 for 4-layer, $74 for 6-layer