This is 12v to 5v converter step down Regulator for my friends. He bought a digital camera that can take pictures and videos as well. But he tells that it has restrictions is available, not long the battery runs out. He did use an external battery, but the size 5 volts not had to modify the battery lead acid 12 volts reduced pressure down to the 5 volts.
OR other cases. If you want the power supply for digital circuit testing or use. It's like if you have voltage 5 volt 3amp power supply 12V directly from the battery, then it must have a lower voltage to 5V and a current sufficient. I would recommend this circuit. The principle was the simple looking device for sure.
12v to 5v converter step down Regulator
We have 12V to 5V 3A DC converter step down Regulator circuit come to deposit. In sometimes friends have the power supply 12V 3A, but want Voltage 5V 3A for digital Circuit. This circuit can meet the demand of friends get, by it uses normal electronic part and have 7805 integrated circuits perform to control Voltage 5V Regulate alone it gives current get just 1A. then must have an assistant is transistor MJ2955 perform enlarge current tally go up to be 3A besides.
When be born overload or shot circuit as a result still have LED1 bright warn with. And still, make Q2 – BD140 work cause Q3 – MJ2955 stop work with. The circuit then safe have no problem friends may like this circuit. Because the equipment seeks easy, build not difficult too.
Application
I have old GPS, usually, I use it in my car. We need to have DC to DC converter circuit that can reduce voltage 12V to 5V at current more than 2A.
Which circuit diagram can make this. I like it that need buy some parts since I have also in my stores.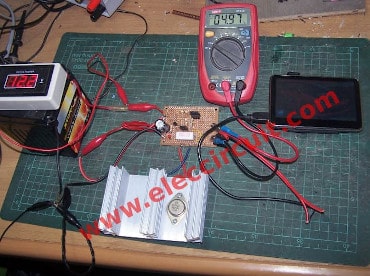 As Figure 2 I assemble them on universal board
Other similar circuits.
---