This is Small Zener diode voltage regulator circuit with PCB, using a transistor and Zener diode.
If you are looking for a simple and cheap fixed dc source circuit. It is one of the best choice.
See in the circuit below. Why should we use this circuit?
The constant output of 12 volts, at max output current of 1A.
It's flexible. Read more below!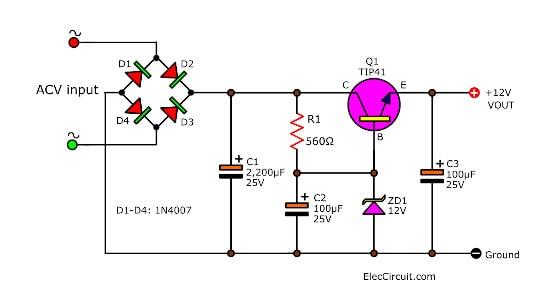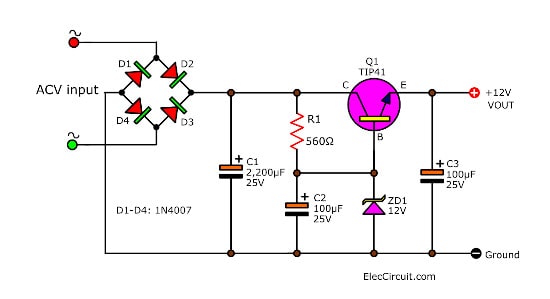 Small Zener diode voltage regulator circuit
How it works
If We need to use a micro preamplifier with a power amplifier. Which it uses a supply 12V 0.5A. We can connect the input terminal to a sec of the transformer.
First, the ACV comes to rectifier bridge, D1 through D4, rectifies the AC into pulsating DC.
Second, the capacitor-C1 will smooth that pulsating DC into a steady DC.
Third, this DC flows through resistor-R1 and Zener diodes-ZD1. The R2 reduce a current for ZD1 until it has a constant voltage at VZ, 12V.
While there is 12V at the base of transistor-Q1. Since it is in a common collector. So the voltage of base(VB) equals the voltage of emitter(VE).
But while It is conducting, the electrical current flows through B-E. There is the voltage across B-E, 0.6V. Thus, the VE or output voltage is reduced to 11.4V.
When the load makes the output of voltage changes. But the gain of Q1 will make the VE to be the constant voltage.
How to build it
Highlights of this circuit are so small in size. See in below the copper PCB layout. You need to print it in 300dpi per inch. Then, solder the components on PCB as layout below.


Actual-size of Single-sided Copper PCB layout

Component layout for the PCB
It is easy, I believe you can do.
Why is it flexible?
Many flexible you should build it.
We can change the output of voltage by ZD1 such as 6V, 9V, 10V. Its power is 1W.
What is least Input voltage? We need to increase input voltage by at least 1.25 times of output. For example, If the output is 15V, The input will equal about DC19V (15V x 1.25) or AC15V.
Important! We change a voltage of C1 (WVDC) to be 2 times of input. For example, the input is 18V, WVDC should be about 35V. The C1 is 470uF 35V Electrolytic capacitor.
However, we not should use the input voltage more than 25V. Because while the circuit is working will too hot. We cannot use the big heatsink. It is not small size, it doesn't our concept at the beginning.
AC transformer
Some friend does not clear about AC in. In these circuits, you can use them 2 form. As the image below. It is different the place of the power switch and fuse. You can use both forms.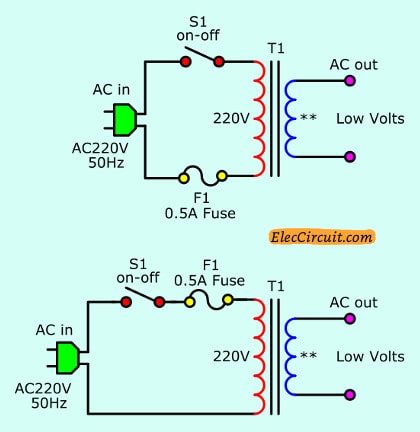 It is important that you have a voltage transformer rating and the output DC voltage.
For example
You need to use 12V 0.5A DC voltage. You should use the secondary coil of the transformer at least 12V. Because when it is converted into DC. The voltage will be about 17V.
From mathematical formulas:
DCV = 1.4V x ACV
For the output current. You should use a transformer at least 0.5A. But 0.75A current is better.
Also, we want you to see the article below they are related.