If you are looking for the circuit DC Switching Regulate 3A some sizes are circuit. I begs for to advise this circuit , because use the integrated circuit number then build easy be simple the a little equipment with. Follow the circuit uses input voltage 8Vdc to 40Vdc.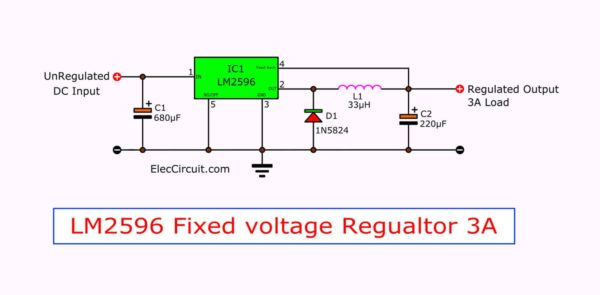 When , change IC one by one give Volt output differently be – LM2596-3.3 (3.3Vdc output) ,
LM2596
-5.0 (5Vdc output), LM2596-12 (12Vdc output). For the equipment should change be appropriate with. Such as C1 should become 330uF (for LM2596-3.3, LM2596-5.0) or 180uF (for LM2596-12) for The L1 = wire coil inductor , be valuable 33uH (for LM2596-3.3, LM2596-5.0) or 68uH (for LM2596-12) Other detail see in the circuit please sir.