Here are the 7805 datasheet of popular 5V voltage regulator IC and the 7805 pinouts.
They are designed to provide a constant 5V. When powered by from about 7.3 to 35 volts.
We usually want to use a stable voltage source. Which it is a lower voltage than batteries.
Sometimes, the transformer power supply may have a high voltage. Thus it can help you.
The 7805 is a good device to power the TTL family of digital integrated circuits.
It is ideal for any circuit that requires a very stable 5V power supply.
7805 Pinout and Specifications
Inside IC-7805 has many components are connected into a Schematic diagram.
It is so a lot! So, In general use, We do not need to understand those devices.
We just use it by understanding its features and limitations.
Look:
7805 datasheet internal circuit
Compare with the simplest Zener diode and transistor regulator circuit.
Input voltage: 12V and Output: 5V 1A. as well.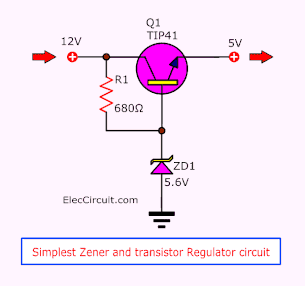 But after has a few parts than the IC version. Just only power transistor Zener diode 5.6V and one Resistor.
Basic 78xx regulator circuit
Look at the basic circuit diagram using a 78xx regulator. In 7805 datasheet said C1 and C2 will keep the stability of the circuit. To reduce any noise, spike voltage, and more.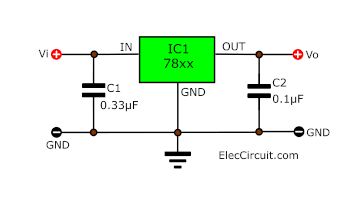 Actually, I have tried without the capacitors or only one IC. The circuit works normally.
Which is better? Which do you choose?
Basic Feature
Typical output voltage: A typical 7805 delivers 5V. Some model may provide from 4.8V to 5.2V.
Load regulation: The load is typically regulated to within 10mV and less than 50mV.
Peak output current: The TO220 version of 7805 delivers more than 1A to a load. But, its aluminum heatsink mounts to an appropriate heatsink.
Internal overload protection: If the 7805 regulator IC operates over too much and starts to overheat. A special thermal overload circuit will automatically turn off the chip until the temperature returns to a safe level.
The minimum input voltage to deliver 5 volts output: 7.3V. below 7.3V the chip may not provide a stable 5 volts.
Maximum input voltage: 30VDC, but higher voltage it needs to hold current and more power on it. So, it is too hot.
7805 Pinout
Other 7805 versions: The 7805 has various versions. The TO-3 version comes in an all-metal can for better heat sinking. A small plastic TO-92 version provides up to 100 mA for low power circuits.
In the present, we will often see DPARK, since It is a small size suitable for SMD PCB work. We like to use TO220 because it can supply high current, easy installation and cheap.
This voltage regulator IC can deliver a fixed or adjustable voltage from an external power source.
You should bolt the 78xx regulator to a metal heat sink using the hole at the top.
I love a lot of circuits.
They help me grow in Electronics, and you?
Power Supply 5V 1A using IC 7805
I am built this DC regular circuit, is the first project.
Because at that interesting about digital circuits, need a constant 5V 1A fixed power supply.
Using IC-7805 is very suitable for this job.
Because it is easy to use, easy to buy, as popular applications, and it is also cheap.
For working principle
I would permit to tell simply. When the home electric source ACV, 110V or 230V or a 220V, depending on your country, through the transformer, the voltage remains 9VAC.
Then through the diode for rectifier power supply to the DCVolt, And a filter circuit with Capacitors.
This is a voltage is about 12Vdc. It does not work through IC-7805, before our hero.
To control a stable 5V voltage which can prevent also a short circuit.
Just now I have a small circuit great ready to use it.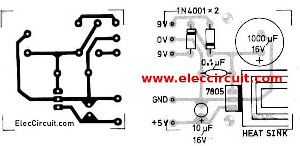 The PCB layout of Power Supply 5V 1A by IC 7805 and The all components layout.
That's not all…
Example circuits using 7805
We have many ideas or circuits using 7805 as main. Learn more lists below.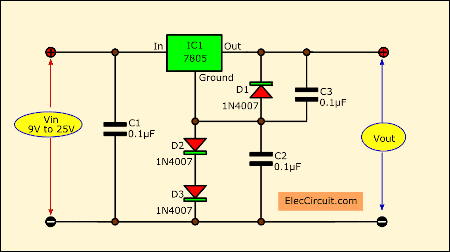 How to change 7805 voltage using Diodes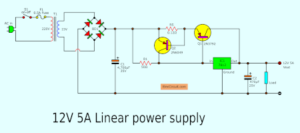 Design: 12V 5A Power supply using 7805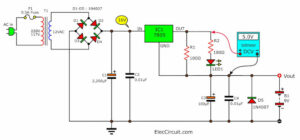 Learn more: 7805 Constant current charger
See more: 6V power supply circuit diagram
And more…
---
GET UPDATE VIA EMAIL
I always try to make Electronics Learning Easy.