This timer circuit uses a 555 IC timer number. This small,compact and portable. For the snooze alarm by buzzer when some 5 to 30 minutes. It makes clear the brain is ready to continue to work.
When the switch S1 to enter a power supply circuit, it will be ready to go.The circuit includes a circuit IC1 Mono Stable for the delay.The switches S3-S6 as election time.If selected by S3, 5 minute timer.S4 is located at 10 minutes.S5 timer for 15 minutes and S6 is scheduled for 30 minutes.If you want to set for 10 minutes, switch S4 is followed by a switch S2 to start all the time.Work is that when switch S4 will allow the current flowing through R4 will flow through the switch S4 to C2.Acting with a delay charge and discharge completely.Then send a signal to Pin 7 and 6 of IC1 resulted BZ1 beeps Buzzer out.
The time value is determined by the value R2, R3, R4, R5 and C2.If you want to set up a long time, it increases the R and C, but would spend less if it reduced the R and C.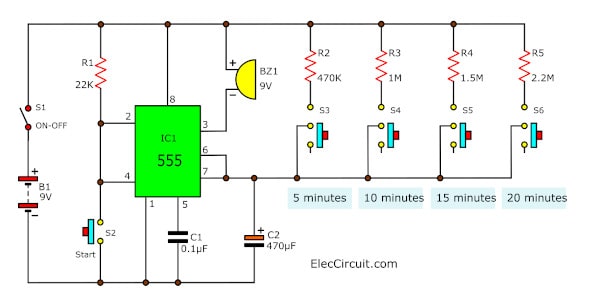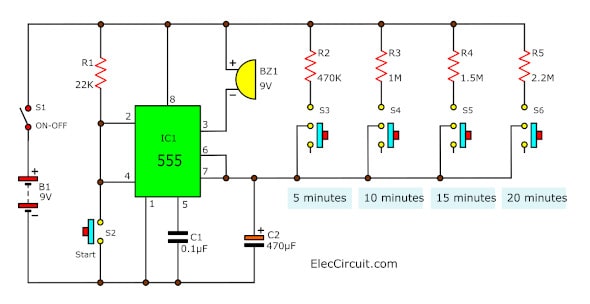 How to build this projects
This projects is very easy because use a few components. As show in Figure 2 is PCB layout and the component layout.
So must be extra careful is. Devices with terminals such as IC-555 , Electrolytic capacitors and the buzzer will are connected match terminals only.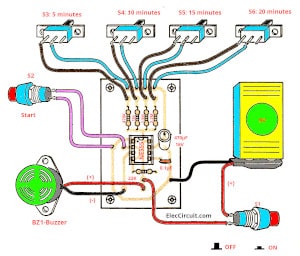 Figure 2 is PCB layout and the components layout
Note:
This project worked my son test it on the breadboard. Below.

He test at 5 minuts.