This is TDA2822 small stereo power amplifier.
People like TDA2822. Me too.
Why?
Note:
You can read more datasheet below.
It is a great idea.
You test the Arduino as a midi player. But its output is too weak.
You should increase the sound louder.
The TDA2822 is a 5V audio amplifier to this. It is one of a low voltage amplifier that is easies in the stereo system too.
Did you try it? You may like it same me. I will show you the TDA2822 Stereo amplifier project with PCB.
TDA2822 Stereo amplifier circuit working
Look at the circuit diagram. It is a stereo system. Both channels are the same.
To begin with, the 9V from power supply—battery goes to the circuit. And, C3 is a filter capacitor to keep this voltage is more stable. When sound is too fluctuating.
Then, the stable voltage flows pin 2(Vcc) of IC1. And, negative voltage connects to GND of the circuit.
Both input signals left and the right pass VR1 and VR2. To adjust the volume of the music.
And, these capacitors C1 and C2 keep circuit stability and block DC voltage.
Next, the signal flows to inputs pin7,8 and pin 6,5 in sequent.
The circuit inside IC runs, It amplifies more power of sound.
The stronger signals come out of pin 1 (left output) and pin 3 (right output).
Also, C8 and C9 are the output capacitors to coupling the strong signals to the speakers.
And both The C6, R1 and C7, R2 reduce noise to the output.
How to build this project
This project is a simple stereo amplifier in small size PCB see in Figure 2 and you can put all parts in the components layout.

Figure 2 the PCB layout and the components layout of a stereo small amplifier using TDA2822
Stop! This is low watts for you, right?
Look:
The components list
IC1: TDA2822_DUAL POWER AMPLIFIER
Electrolytic capacitors
C1, C2: 100μF 16V
C3: 100μF 16V
C4, C5: 470μF 16V
Polyester capacitors
C6, C7: 0.1μF 50V
VR1, VR2: 50K_Potentiometer
B1: 3V to a 9V battery Or 9V power supply circuit
Speaker 4Ω
Note:
My friend asks me how to connects the potentiometer to this project.
Please look at Figure 3

TDA2822 datasheet-Dual power amplifiers
This is TDA2822 datasheet as a dual power amplifier in portable radio on DIP 8pin. We can use as stereo configuration and Mono (Bridge audio amplifier).
Features
Short features as follows:
Keep Reading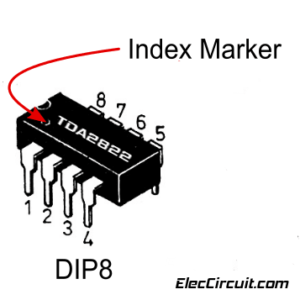 TDA2822 Pinout
Even its shape is as same as the famous 741 op-amps circuit. But TDA2822 pinout is different. Please be careful. See!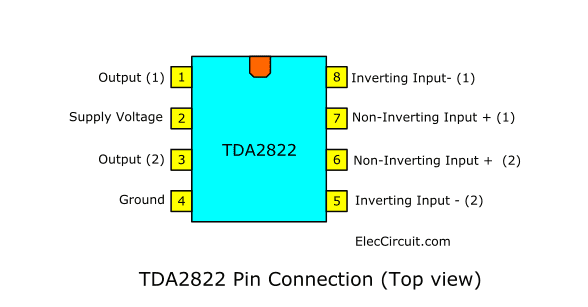 Pin connection (top view)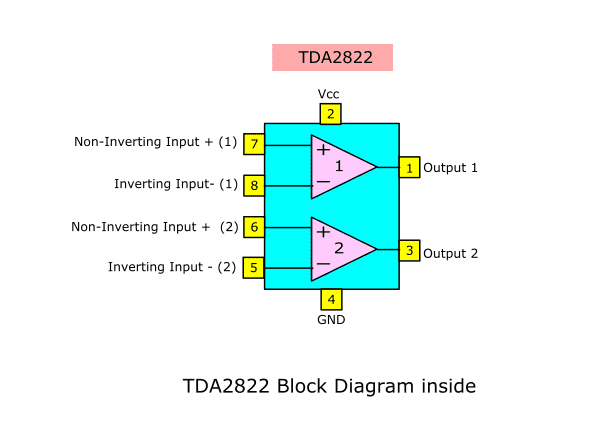 And, inside TDA2822 has 2 Op-amps is similar for 741. But It has a lot of components more than.
With the power amplifier section.
Testing circuit
We can test this IC with 2 basic circuits.
Look:
Stereo module and Bridge module.

The stereo—output 1W + 1W of typical application circuit

The Bridge—output 4 watts max of the typical application circuit.
Although Both are a testing circuit. But you can really use. Because It can get a great output sound on 4-8 ohms speaker.
Download This Post as a PDF and all PCB layouts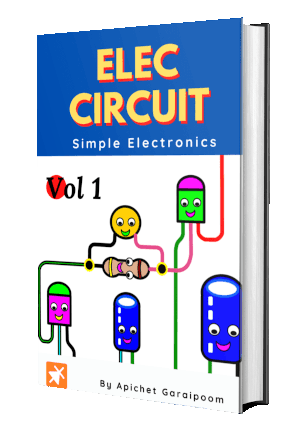 External Idea circuits
TDA2822 Stereo Audio Amplifier Circuit
TDA2822 Dual Low-Voltage Power Amplifier, DIP-8
You may also like these circuits
That's not all…
Look: