This is 2 watts + 2 watts Stereo small LM386 amplifier x3  ICs. It is cheap and easy to builds for beginner.
A basic of amplifier
The most normal power amplifier as Figure 1 that connected to directly a positive of speaker and the negative terminal of speaker to ground terminal of circuit. In Figure 1 setting to the power amplifier have gain about 2 times. Thus, when have signal input is 1 volts will have output equal 1 volts x 2 times = 2 volts
Figure 2 we add the amplifier 2 into the amplifier section 2 will has the difference feature of the section 1 by setting has gain is 2 times.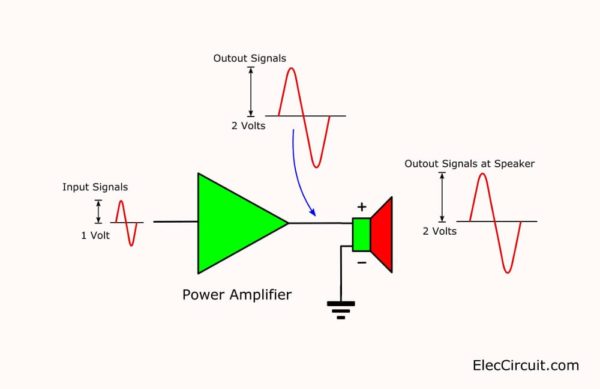 Figure 1 the normal amplifiers
Which is higher loud than the first model. This is called the BTL model (Bridge output Transformer less). Advantage of not requiring the high voltage power supply, it can provide high power magnification option.

Figure 2 How to use the amplifier BTL model
The sound from the speakers to the way in Figure 2 is 2 times of the method in Figure 1.
How it works
In figure 3 is fully 2 watts + 2 watts Stereo Using Three LM386
Audio signals is fed into the input, VR1 is the volume louder – light sound. The IC1, IC2 and IC3 is the heart of the circuit, each IC on resistors and capacitors connected with the appropriate values. The power can be 1 watts (from datasheet).
Both IC1 and IC2 will works to increase the sound output to the the speaker, which is the left channel. At the same times, IC2 and IC3 will work together, To amplifier to the right speaker. If equal to watt is about 2 watts.
It is seen that, we use 3 ICs each unit is 1 watts. But it was a combination of all the 4 watts, the profits of the 1 watts.
The parts you need.
IC1-IC3____LM386___Mini Amplifier
Resistors 0.25W 5%
R1,R3______47 ohms
R2,R4,R5___ 10 ohms
R6_________ 1K
Electrolytic Capacitors
C1,C8__________ 4.7uF 50V
C2,C5,C9________22uF 16V
C4,C7,C11,C12___ 470uF 10V
Ceramic capacitors
C3,C6,C10________ 0.047uF 50V
VR1___10K (A) Potentiometer
LED1___LED as you like.
Switches, PCB, Box,wires and more.
How to builds
First of all,find all parts as list in circuit diagram.
Then builds a pcb as Figure 4 actual-size of Single-sided Copper PCB layout
then assemble all parts on pcb as Figure 5 the components layouts