If we want a good quality sound system. The first thing that we should choose, the good pre-amp.
Some people said It is not necessary. But when the low-level audio source.
We may need to adjust the sound too high. It may cause distortion. Thus should have the preamplifier to amplify a signal up before to our power amplifier.
And I use transistors to build as small pre-amplifier, because:
I am familiar with it than other devices. Even though the quality is good.
There are many to choose for creating circuits.
Lower noise, compared with ICs.
Cheap, easy to find accessories.Seeing these advantages. Let's consider different circuits. For example, I would suggest the following.
1.) Pre Amplifiers circuit Diagram using Transistor
When you want to increase a sound signal from all source, before to a power amplifier.  We often use Pre Amplifier or Pre Amp.
Today we look another one circuit.  It is interesting because using only one transistor.  If you do not have this one(2SD30). You may use others one such as 2SC1815 or 2SC945 or 2SC828, etc.
In the circuit above is Mono system. If you want a stereo. You need to build other one Mono. Which this is an easy circuit.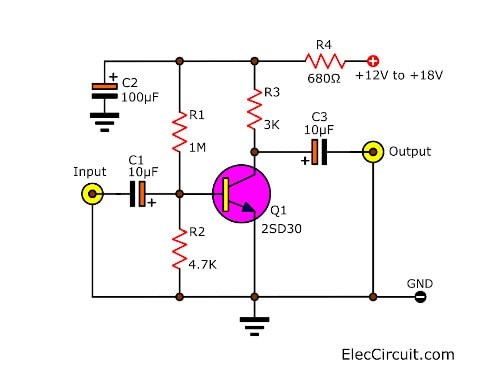 We can connect the output of circuit to the input of power amplifiers.  For the input signal should be enough high level such as from CD player, cell phone,  and more. It is not suitable for low signal. Because of low gain.
2.) Simple pre-amplifier using BC547 transistors
This is a higher preamplifier circuit.  Also to increase a small audio signal to strength to go into a power amplifier circuit.
It is suitable for a tuner, tape etc. That was the strength of input signals in μV to rise to mV.  It can access efficiently to a power amplifier.
How it works
First of all, enters a 9V power supply to the circuit. Both Q1 and Q2 to a direct coupling circuit to transmit better.
When the signal input through the C1 coupling into the signal to Q1. It amplifies a signal to a higher level at the collector(C).
Then,  the signal comes into Q2 as the second amplifier.  Next, the signal to leave the output C of Q2. To pass the C6 coupling signal from the output. And some signal at the output of Q2 will feedback through to the C4, C3, and R3. It comes to pin E in Q1 in order to help the range of frequency response.
3.) Simple Preamplifier Circuit using BC548 Transistors
This preamplifier circuit with two transistors. It uses a single supply source from 6V to 12V, at the current minimum is 2-3 mA.   It can extend the signal strength max 2V.
This will drive easily a signal to a power amplifier. The frequency response is from 70 Hz – 45 kHz at -3 dB. It has a distortion of less than 0.1%.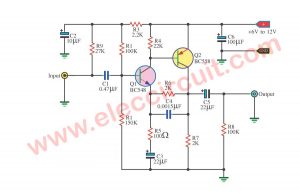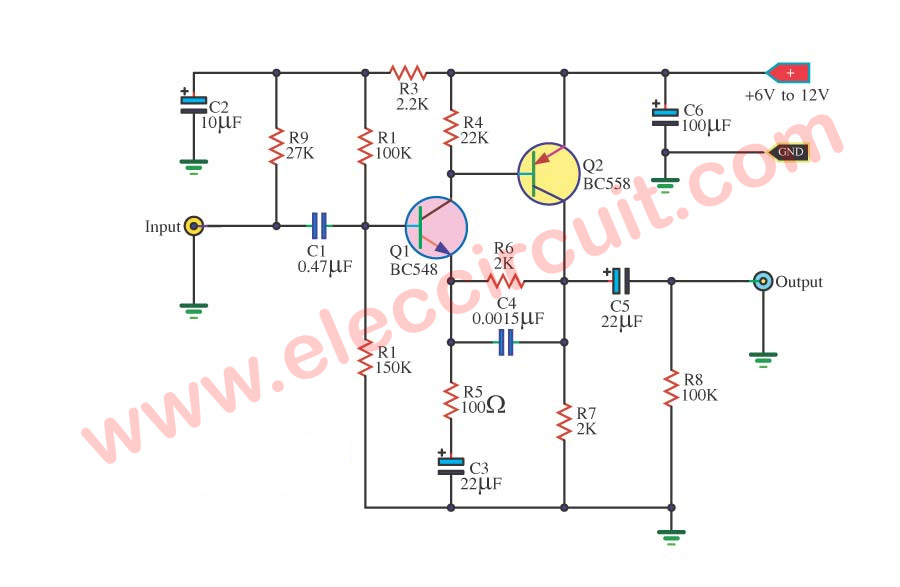 How it works
To begin with enters a supply voltage to the circuit. Second, to bring an audio source to Input. The signal is coupling through C1 to prevent DC voltage to disturb in the circuit.
Then, audio goes into the lead B of Q1 to amplify signals to forces up, with the R1 and R2.  They are the organized bias for Q1.  Both  Q1 and Q2 transistors connect together in a direct coupling form, to improve audio response.
Next, the signal is increased out of lead C  of Q2, and through C5 coupling the signal to smooth up.  Then, send it to output.   The gain of the circuit can be set from the R6/R5.
For capacitor C3 to improve a high-frequency response better.
Resistor-R9  bring a supply voltage and limit the current to connected to the circuit when the circuit for the condenser microphone. If you do not use it can remove R9 away.
4.) Cassette Preamplifier circuit using BC109 transistor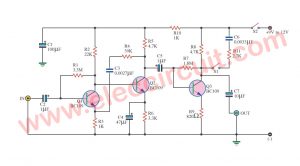 This is circuit Cassette Preamplifier. I used transistor BC109 main part electronics.
It is very easy preamplifier for cassette tape or car audio. But is an old circuit, I like this circuit because it is classic.