Last updated on July 15th, 2021 at 09:34 am
If we want a good quality sound system. The first thing that we should choose, the good preamplifier circuit. Some said It is not necessary. Let me explain to you why should you use transistor preamplifier circuits.
Imagine we have a 100 watts RMS amplifier. And the gain of about 22 times the input sensitivity or the input signal level of 1.2V.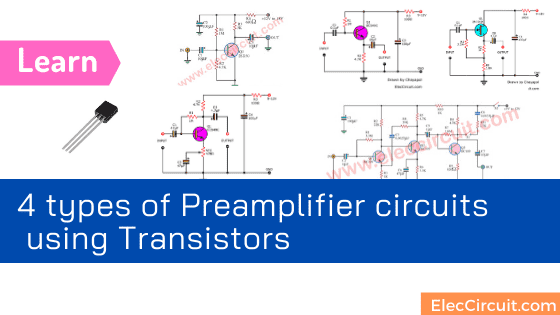 So, we have to enter the 1.2Vp-p input signal to hear 100 watts of full power.
But if we enter the lower sound signal like 0.1Vp-p., It will cause the sound to be lowered into the speaker as well.
Therefore, we need to have a basic amplifier or preamplifier in order to amplify the signal to have enough power about 1.2Vp-p with low distortion.

In many cases, the amplifier needs different components such as gain, sensitivity, or even impedance matching.
We should learn or choose to create 4 preamplifier circuits in which each circuit uses only one transistor. And arrange different circuits To be consistent with the needs of the amplifier.
Note: All 4 circuits have the same PCB, so we can choose to position different devices for the selected circuit.
Low impedance input Preamplifier using transistor
In an old amplifier circuit, such as in an intercom system Use 2 or more speakers instead of a microphone.
In this case, the voice coil of that speaker has a very low impedance, not more than 20 ohms only Voltage from the voice coil is very low, only less than 0.01V. And older AM radios also use low impedance speakers, too.
We can increase impedance by using matching transformers. To convert both the higher impedance and voltage. But using transformers will lose high frequency. Therefore use transistor better,
The medium Impedance Preamplifier circuit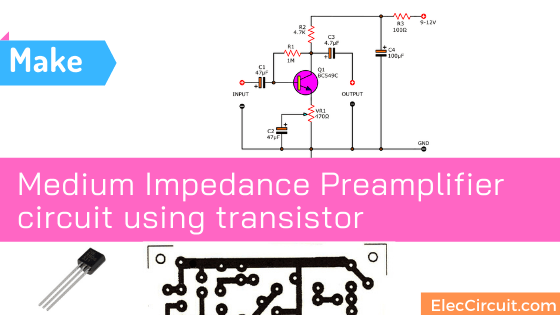 If we want to design a Medium Impedance Preamplifier circuit using only one transistor We should change it into a common emitter.
We can use this for many signal inputs for example a condenser microphone, tuner, AUX, etc.
And/OR
Look at below example old circuit.
Pre Amplifier Circuit Diagram using a transistor
It is interesting because using only one transistor. If you do not have this one (2SD30). You may use others such as 2SC1815 or 2SC945 or 2SC828, etc.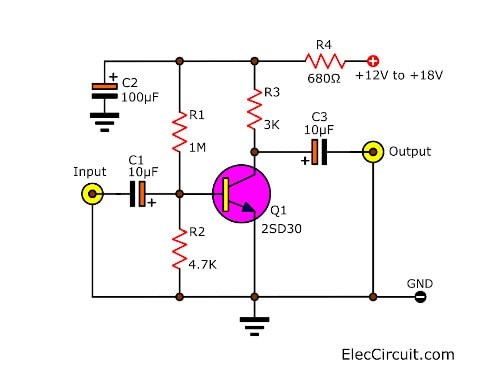 Pre Amplifiers circuit Diagram using Transistor
The circuit above is a Mono system. If you want a stereo. You need to build another one Mono. Which this is an easy circuit.
We can connect the output of the circuit to the input of power amplifiers. For the input signal should be enough high level such as from CD player, cell phone, and more. It is not suitable for a low signal. Because of low gain.
High Impedance Preamplifier circuit
Want a high impedance preamplifier circuit? For a ceramic record player, etc. Make the emitter follower circuit has low noise causes sound concise.
Of course, we like choosing simple and cheap circuits, this circuit too.
See the active circuits below. It's a simple circuit. READ MORE
If we want to increase the input impedance of the bipolar circuit even more. We can make easy with 2 or 3 transistors, like the amplifier circuit on the tape radio. That is commonly used.
See below for example circuits.
Simple pre-amplifier using BC547 transistors
This is a higher preamplifier circuit. Also to increase a small audio signal to strength to go into a power amplifier circuit.
It is suitable for a tuner, tape, etc. That was the strength of input signals in μV to rise to mV. It can access efficiently to a power amplifier.
How it works
First of all, enters a 9V power supply to the circuit. Both Q1 and Q2 to a direct coupling circuit to transmit better.
When the signal input through the C1 coupling into the signal to Q1. It amplifies a signal to a higher level at the collector(C).
Then, the signal comes into Q2 as the second amplifier. Next, the signal to leave the output C of Q2. To pass the C6 coupling signal from the output. And some signals at the output of Q2 will feedback through to the C4, C3, and R3. It comes to pin E in Q1 in order to help the range of frequency response.
Simple Preamplifier Circuit using BC548 Transistors
This preamplifier circuit with two transistors. It uses a single supply source from 6V to 12V, at the current minimum is 2-3 mA. It can extend the signal strength max 2V.
This will drive easily a signal to a power amplifier. The frequency response is from 70 Hz – 45 kHz at -3 dB. It has a distortion of less than 0.1%.
How it works
To begin with enters a supply voltage to the circuit. Second, to bring an audio source to Input. The signal is coupling through C1 to prevent DC voltage to disturb in the circuit.
Then, audio goes into the lead B of Q1 to amplify signals to forces up, with the R1 and R2. They are the organized bias for Q1. Both Q1 and Q2 transistors connect together in a direct coupling form, to improve audio response.
Next, the signal is increased out of lead C of Q2, and through C5 coupling the signal to smooth up. Then, send it to output. The gain of the circuit can be set from the R6/R5.
For capacitor C3 to improve a high-frequency response better.
Resistor-R9 bring a supply voltage and limit the current to connected to the circuit when the circuit for the condenser microphone. If you do not use it can remove R9 away.
Cassette Preamplifier circuit using a BC109 transistor
This is the circuit Cassette Preamplifier. I used transistor BC109 main part electronics.
It is a very easy preamplifier for cassette tape or car audio. But is an old circuit, I like this circuit because it is classic.
Try simple FET Preamplifier circuit (Very high impedance)
If you need a very high impedance preamplifier. We may see many circuits using transistors or ICs. But if we need the circuit that is small, easy, and economical.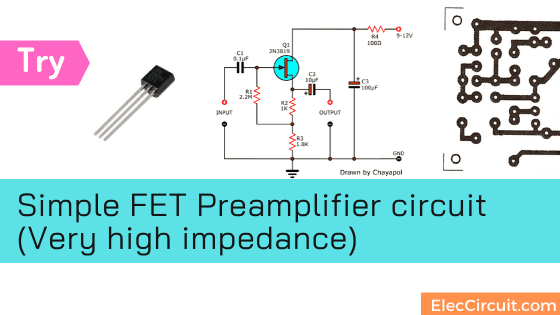 I think the FET Preamplifier circuit might be something to look for. READ MORE
GET UPDATE VIA EMAIL
I always try to make Electronics Learning Easy.