If you are a beginner that wants to build a Mini amplifier with tone control.
TDA2004/TDA2005 subwoofer Bridge Amplifier circuit diagram.
This is one of the best choices, the integrated amplifier.
With this, you can share a good sound of music from your cell phone to a big speaker.
All friends in the room will be happy with nice music.
Why should you make it?
Can increase the sound output of 20 watts at 8 ohms speaker.
Requires a 12V power supply so easy.
Small circuit with one IC and more little parts.
You can adjust the volume, bass, and treble.
That important it is cheap, too.
How TDA2004 Amplifier works
The key to this project following the circuit diagram below is TDA2005. It is a 20 watts bridge/stereo amplifier for the car radio.
Or You use TDA2004 10 + 10 W stereo amplifier as well.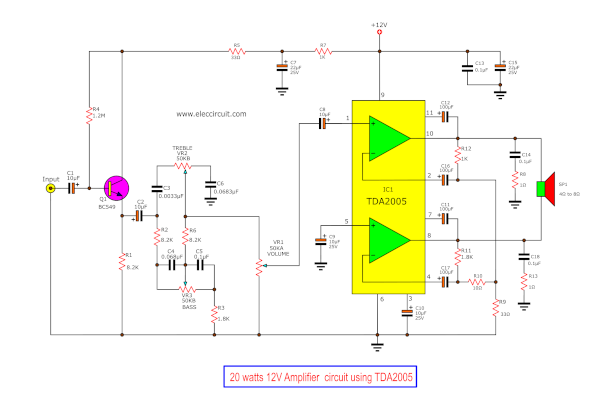 The internal structure of the TDA2005 includes two op-amps. In this circuit, we connect them in bridge model.
This form, there is a lot of the output power, more than others.
If you use a mono system the output of 10 watts. But in the bridge system the output of 20-30 watts. At the same are an output speaker and a power supply.
It is a power amplifier for the car radio, so uses voltage of power supply is 12 volts 14.4 volts.
Importance, it is able to response frequency from 35 Hz to 15 KHz.
We know the feature of TDA2005 amplifier circuit diagram enough. We let to see how it works better.
Recommended: 50W-75W integrated Amplifier
To begin with, An input signal comes into this circuit through capacitor-C1. Then transistor-Q1 amplifies this signal rises up.
Which there are capacitors C2, C3, C6, and potentiometer VR2—Treble controlling—to adjusts the signal level or the high-frequency sound.
The capacitor C4, C5 and potentiometer VR3—Bass controlling—to adjust a Level of the low frequency or bass sound.
And, VR1—Volume—to adjust the size of the input signal.
After that, the capacitor C8 coupling signal to input-pin1 of IC1 to increase higher signal.
The gain output, set with resistors R9, R10 and R12.
Two capacitor C12 and C11 are boost trapping to low frequency.
C17 is feedback and set the low frequency.
C14, R8, and C18 and R13 protect a high frequency modulating oscillator.
The output of this circuit is at pin 8 and pin 10 of IC1.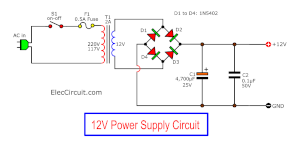 12V 2A, DC power supply circuit for TDA2005 Amplifier
We like a great sound so we need to use a proper power supply for this project.
We use the 12V 2A DC power supply circuit diagram, above.
If you have a lot of hum may is ripple Read HERE
It is suitable for this. Because of an enough current, easy, cheap.
It is an unregulated power supply circuit.
Here is the step-by-step process.
First, the transformer reduces the AC main 220VAC into down to 12VAC.
Second, use the diodes in the bridge rectifiers to converts AC voltage to a pulsed DC.
Third, the capacitor C1 smooth filter such DC voltage to steady DC output.
Fourth, the capacitor C2 reduces noise caused by high frequency.
How to build a TDA2005 bridge amplifier
The parts you will need
IC1 = TDA2004 or TDA2005 (20 W bridge/stereo amplifer for car radio)
(Buy TDA2005 HERE)
Q1 = BC549—45V 100mA NPN Transistor
R1,R2,R6 = 8.2K—1/4W Resistors
R3,R11 = 1.8K—1/4W Resistors
R4 = 1.2M—1/4W Resistors
R5,R9 = 33 ohm—1/4W Resistors
R7,R12 = 1K—1/4W Resistors
R8,R13 = 1 ohm—1/4W Resistors
R10 = 10 ohm—1/4W Resistors
C1,C2,C8,C9,C10 = 10uF 25V — Electrolytic Capacitors
C7,C15 = 22uF 25V—Electrolytic Capacitors
C11,C12,C16,C17 = 100uF 25V—Electrolytic Capacitors
C5,C13,C14,C18 = 0.1uF 63V—Polyester Capacitor
C4,C6 = 0.068uF 63V—Polyester Capacitor
C3 = 0.0033uF 63V—Polyester Capacitor
VR1,VR2,VR3 = 50K (B)—Potentimeter
The heat sink, power supply 12V
Note: This circuit is mono, If you want in stereo systems, Just create another set.
We need to build PCB first. We watch the video how to make PCB: Make Your Own Printed Circuit Boards on a Laserjet!


Figure 4 the components layout
We soldering electronic components onto the PCB layout.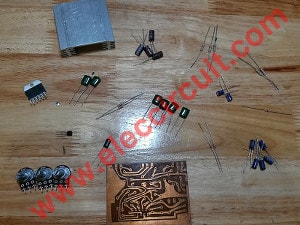 Then, prepare parts ready as the list above.
First of all, my son cleans the legs of electronic components. To can solder them easier and good.
Then, Figure 4 the components layout. We start to solder from three short wires, followed by a slower device, resistors, capacitors, transistor and important IC1.
Then, check the connector of the device as well.
Do not use the soldering iron tip to legs of devices for a long time. It may damage.
The heat sink of IC1 should be a proper size (Not too small). And screw the IC1 tightly.
We use the heat sink as Figure 5. My son drilling holes of the heat sink to install the IC1.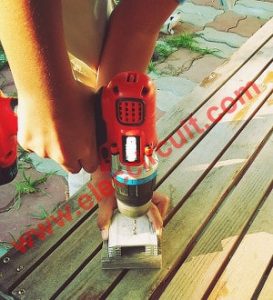 My son is building this project. It is easy for him that 9 years old. You can also make it.
Another important thing is the shield or a ground connection.
We should connect a body of metal components to the ground. For example potentiometers, the body of IC. It protects a noise signal well.

He is testing this project as a 20watt Integrated Amplifier using TDA2005.
He uses the old small speaker in 8 oms size so well sound for mini-room.
All full-size images and PDF of this post are in this Ebook: Elec Circuit vol.1 Thanks for your support. 🙂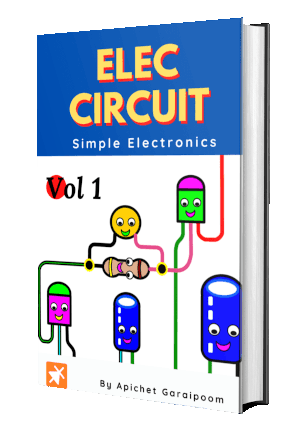 Get Updates via Email

We always try to make Electronics Learning Easy.