300W Power amplifier HIFI using MJ15003-MJ15004
Follow the request of friends who likes High power Amplifier Circuit. I then beg for to advise this circuit. It has can to give the electric power about 300Watt RMS unless.
Still be amp OCL Model Class AB give sound tall power and certainly should systematically protect that excellent a loudspeaker then torn difficult. Besides still use Transistor replace the integrated circuit then give waste matter feeling cancels bland three goes up and have MJ15003 and MJ15004 then have respond electric good enough power. When friends see the circuit has already , will have plentiful detail,then inappropriate for hobby Electronics man type. But if friends want to try build , have no a problem , be lucky.
200W Power Amplifier for Car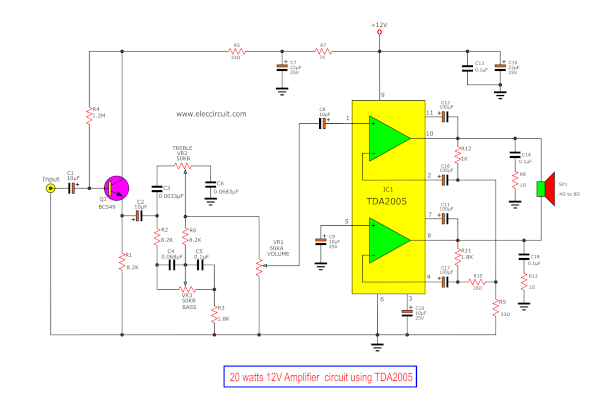 Today we try to come to see the idea power Amplifier for Car. I sees this circuit , designed come to well. There is tall drive arrives at 200W is the character Amp OCL very be Class AB amplifier make good moderately sound. Besides still systematically protect excellent loudspeaker. But I thinks this circuit may inappropriate with a novice. Because of use many equipments, circuit absorb overlap , must fine decorate thoroughly. But friends at like sound good quality As a result be worthwhile very. See be circumspect in power Amplifier for car circuit.
Easy Amplifier HiFi OCL 150W RMS using Transistor
A younger brother who study electronics side tell want power amplifier hifi the size about 100W to 150W is model OCL Class AB. I then advise a younger brother try out this circuit. Because of build easy must not fine decorate anything. Add finished equipment feed power supply +50V Gnd -50V sizes also the work immediately. But the equipment that use should choose well especially Bipolar Transistor parallel connection should is same number. Of the same only kind. The detail is other should see in the circuit sir.
These amplifier projects are simple, have PCB and cheap.
If You want to circuits amplifiers for bass guitar, or for using in every situation such as both listen to in the house, outside the house or outdoors. This circuit is answer that you is looking for. It is wisely designed with power output at 200 watt in super bridge model so help to you have a high quality circuit in cheap.[…]
This is circuit MOSFET power amplifier OCL, Output 100w , use mosfet k134+j49 or Mosfet J162 + K1058, Output 112W at Speaker 8 OHM. Power Supply +56V/-56V 4A /Ch. […]
This Power Amp OCL 100 watt circuit by transistors.They has been an old circuits, but very well amplifier schematic.
We use only all transistor MJ15003 and MJ15004 is the main in circuits, and the power supply +38V 0 -38V 3A. follow stye of OCL amp and They has Specification are power output : 105watt at 4 ohm load, 88watt at 8 ohms load.[…]
If you are looking for a 100-watt amplifier, For the job a small PA system, The news spread in the village or the sound system for the conference. I recommend this circuit, Because sound is very loud. When compared to other circuits at power are equal and very durable. […]
If you want to create the 100 watt OCL audio amplifier circuit. I want you to consider this circuit as one. It uses STK4231 IC products to create a simple, small and best economical. The STK4231 is Hybrid IC of Sanyo, in the family of STK4201II. Can provide a high power output to 100 watts per channel. And When connected to the bridge adapter with output altitude of about 400 watts is incredible. […]