Do you want a low-frequency class B power amplifier? See TDA2020 may be one of choice that you not should miss. In a 14-lead quad, the in-line plastic package is easy to use.
In normally It gives 20 watts output power, at distortion = 1%, +/-18V supply, and 4 ohms speaker. And, in the datasheet guaranteed output power is 15 watts at +/-17V on 4 ohms speaker.
Also, TDA2020 provides high output current up to 3.5A. And, so low harmonic and cross-over distortion.
Sound good, doesn't it?
Not only that.
It has a short circuit protection system. And, The shut-down system when is too over temperature. And, the output transistors within their safe operating area.
Now you are interesting this amplifier IC, right?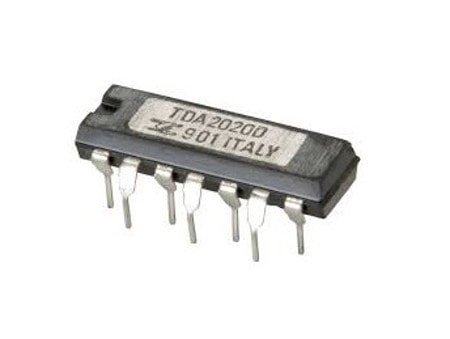 See:

Buy here
Highest level of use
Vs—Supply Voltage: ±22V
Vi—Input Voltage: Vs
Vi—Differential input voltage: ±15V
Io—Output Peak Current (internally Limited): 3.5A
Ptot—Power dissipation at T case ≤ 75°C: 25W
Tstg, Tj: Storage and junction temperature: -40 to 150°C
TDA2020 Pinout
How to use it. See the connection pinout.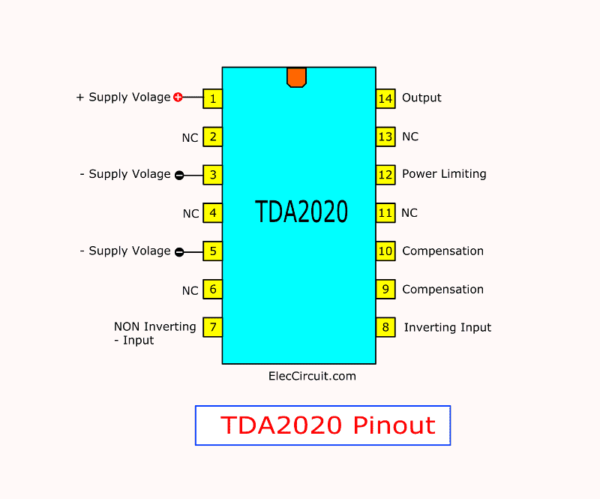 The copper slug connects to pin 5.
Have you ever wondered? IC is small, but why has a high wattage power? Will it be durable?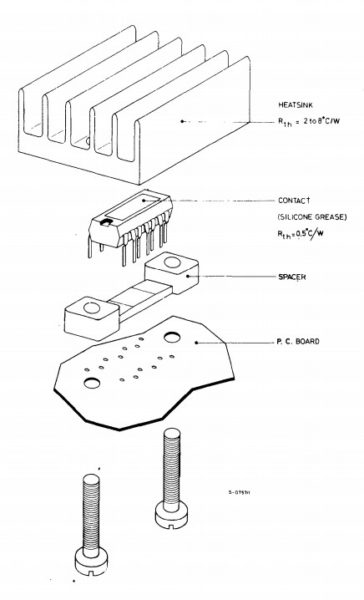 Yes, they can. Because they install enough heatsink.
Look:

Mounting system of TDA2020.
What is more? Want to see circuit now?
20W OCL Power Amplifier circuit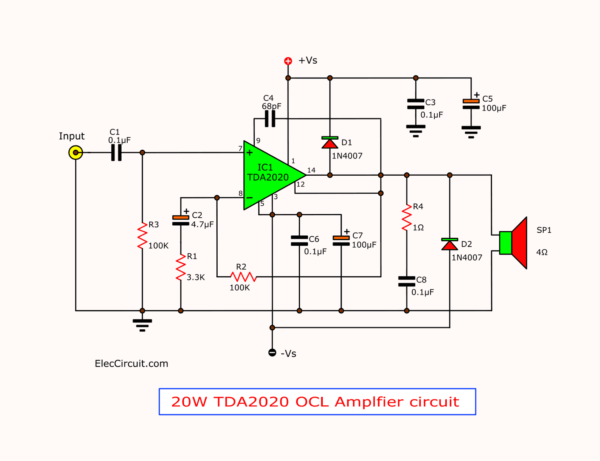 Here is a simple power amplifier circuit in OCL class B using TDA2020.
If we use the 18V 2A Dual Power supply (+18V, -18V, GND). And Speaker 4 ohms. It can give output power 20 watts RMS.
The part lists
TDA2020 30 watts Bridge amplifier circuit
Even more importantly. We can get more wattage by using Bridge amplifier.
Do you know about it?
Imagine you have a stereo amplifier using TDA2020. You want More power and Mono only.
You can modify them to bridge mode. Don't waste time looking at the circuit.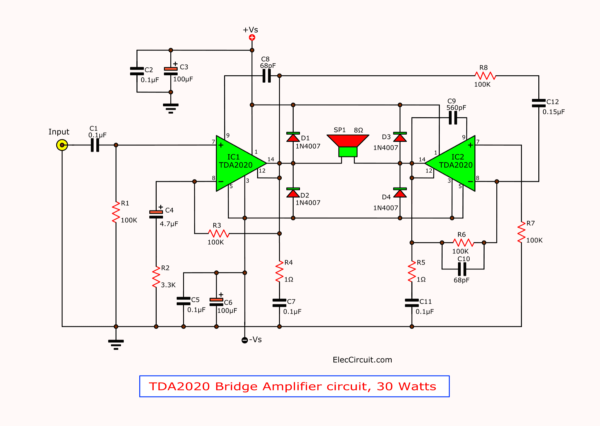 The TDA2020 Bridge amplifier circuit on 30 watts at 8 ohms or 4 ohms.
It requires a more double current of power supply. But the same voltage.
80W OCL HiFi Amplifier using TDA2020 and transistors
It is good to you want more power, like me. We can use pair NPN-PNP power transistors to increase louder sound.
Look in the circuit below.
TDA2020 80 watts Hi-Fi OCL Power amplifier. This circuit style is similar to the TDA2050 and TDA2030 amplifier.
Using transistor boost up current is a good idea. It is saved and easy.
The gain of this circuit about 50 to 80 dB.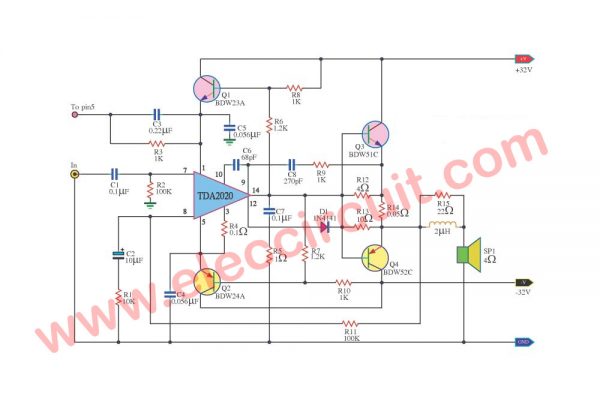 The circuit requires power supply max 32V(+32V, -32V and Gnd) Dual power supply at 3A current.
Makes output power gives 75 watts to 85 watts at 4 ohms or 8 ohms speaker.
Note: Because this circuit is old and maybe a mistake. So, not suitable for a beginner.
GET UPDATE VIA EMAIL
I always try to make Electronics Learning Easy.