If you would like to learn basic digital, but it is difficult and boring. Let's try to create a LED chaser circuit. It used in computer games and in many scientific and mathematics applications so is best for beginner or for kids learn digital, also my son love them.
The LED will glow one by one per a period and it will cycle repeats as running light. In circuit uses IC-555 as oscillator pulse generator and IC-4017 to drive LEDs. Parts used in this circuit are easily available in most of the local markets.
LED Chaser circuit using IC-4017 + IC-555
If you want to build a 10 LED Chaser circuit we recommend this circuit first.
In the circuit above, IC555-IC1 is popular timer IC as the Astable Multivibrator or free-running pulse generator, which the output pulse frequency at pin 3 of IC1 is determined by R1,R2-1.5K, VR1-100K and a capacitor C1-1uF.
The decade counter CD4017-IC2 act as LED driver in 10 output, by LED will glow only one in a rapid sequence. Then, IC2 get pulses to the input pin 14. Next, The 10 outputs Q0 to Q9 become active, one at a time, on the rising edge of the waveform from IC555, to drive the LEDs. The reset pin 15 to the counting.
When one LED turns off, the second on turns on. This cycle LEDs repeats like loop the running light. We can Adjust the speed of LED chaser or the pulse rate by rotating the 100K-VR1 trimer's knob.
Parts you will need
IC-CD4017___Decade Counter Divider with 10 Decoded = 1 pcs.
IC-NE555____ Timer IC = 1 pcs.
C1-1uF 16V____Electrolytic capacitors = 1 pcs.
C2-10uF 16V____Electrolytic capacitors = 1 pcs.
R1,R2-1.5K______Resistors___1/4 W 5% = 1 pcs.
VR_100K__trimer-potentiometer = 1 pcs.
LED____as you need = 10 pcs.
etc.
My son experimented with this circuit on a bread board. This circuit is working in below

7 LED light sequencer circuit with adjust speed
The LED light sequencer circuit, generally can not adjust the speed of running. Cause dull monotony. Resulting in an idea to build this circuit up. This circuit can adjust the speed of the led light as needed. Makes this circuit can be used more versatile.
Operation of the circuit have two section: frequency generators and the display. Which the frequency generator IC1 contains a number Ic timer circuit 555 and frequency generator. Defined by the R1, VR1 and C1 will be the output signal at pin 3 of IC1 sent to display section.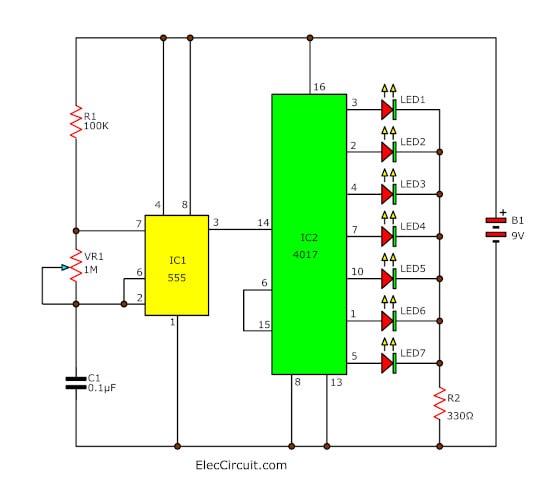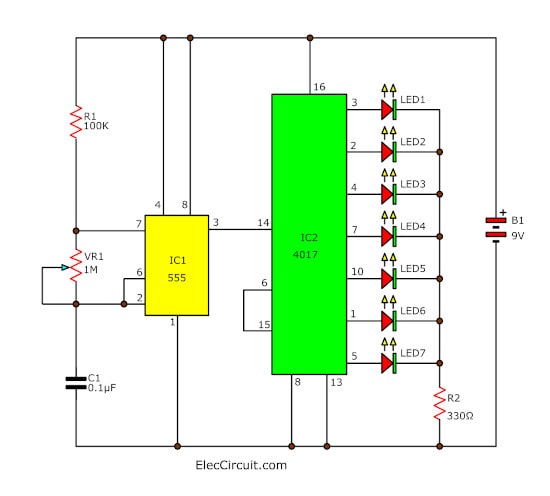 In display section consists of IC2, a number CD4017-IC Counter circuit display the volt at pin 3, 2, 4, 7, 10, 1 and 5, respectively each pin. The speed depends on the frequency count obtained from pin 14 of IC2, which we can adjust VR1 to set the frequency from the frequency generator.
My son play this circuit enjoy!

Next let's to build great project below with PCB…
The Circle LED chaser circuit project
We recommend these circuit below you may like it