PWM Control Speed Motor 12V By TL494
This is a speed controller of DC Motor 12V with PWM system. Which using a TL494 (Switchmode Pulse Width Modulation Control IC) is base for control DC Motor with pulse.
Please detail more:
– For Control speed motor 12V 150Wmax 15A.
– R6 adjust speed motor.
– Driver Motor by Mosfet IRFZ48.x 2pcs.
– Control at Frequency 100HZ
– Adjust PWM duty cycle From 0 to 100%
– Rise and fall time = 10uS
– There is over load current 15A or current limit with current flowing throw R11 and Q1 work to stop IC1
I See from Idea Circuit by joe (aircraftdesigner) Good Elecronics user. Thank you very much.
Source : joe (aircraftdesigner) …..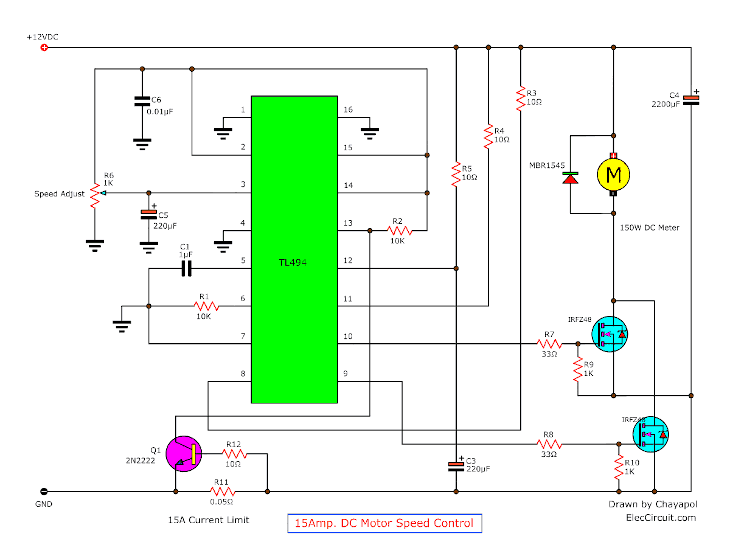 (Cheap and Free shipping)
Related Links
DC Motor speed controller

DC Motor control circuit kit
TL494 circuits
PWM Speed Motor circuit
Motor speed reducer circuit
PWM Motor Speed Controller – DC Light Dimmer by IC LM324
PWM Speed Motor Controller By IC 555
Stepper Motor Driver using L298 and L297
DC Motor Driver with L6203
PWM DC motor control with SG3525
Related Posts :
This be Motor Speed Control Circuit 24 Volt at current 20Amp. By it uses IC SG3526Bcontrol in the character PWM that receive like very much an ...

I got this from a dosing pump control circuit. we use cool IC is no. lm317 circuit, It can uses with power supply source 24VDC and adjust voltage ...