This is Simple PWM motor control circuit using IC-4011. We can adjust speed of 12V small motor. It is easy and uses a few components that IC digital and transistor driver as main.
If you want to control the speed of a small 12 volt DC motor. Before will see others circuit. I introduce this circuit as the figure that shows below. They are simple circuit because used a little piece of the component.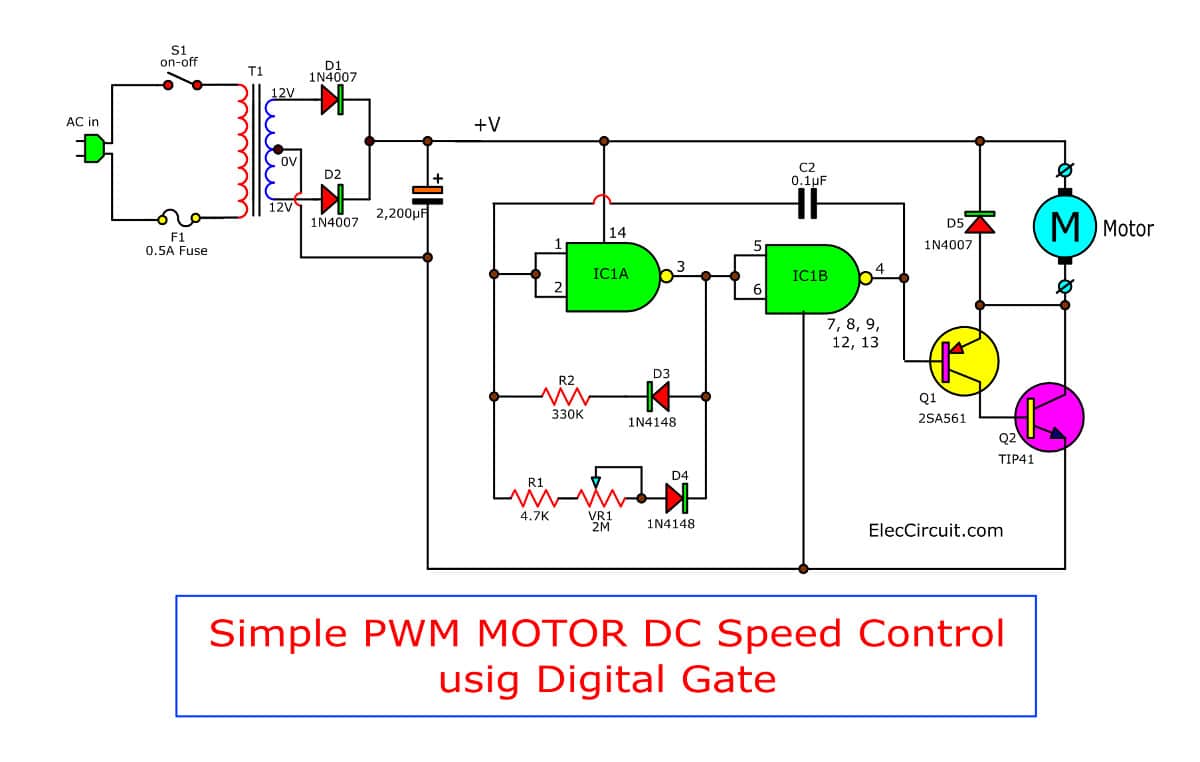 There are a Nand gate Digital CMOS IC number CD4011   as main of the circuit. Which it is determined to works in the PWM model(pulse width modulation) so has high It is highly effective, Low power consumption
We use a potentiometer-VR1 to adjust the speed as needed.
Next, we use two transistors are TIP41 and BC548 to connect in a Darlington makes drive current higher.
We should hold a heat sink at TIP41 due to it heat when they are applied.
While motor function, may be a reverse current, it must put Diode D1-1N4148 to prevent this circuit.
This circuit we bring to use with AC Line power so has T1 to reduce a voltage down into 12V. Then, AC current flow through to D1-D4 to the full wave rectifier into DC current. And there is C1 filter to DCV that smooth so well.
Ready to use the 12 volt DC motor controller. But if you want use it with 12-volt battery, you can remove this section go out.
But if you want circuit that a good than this circuit. see these circuits.
PWM Control Speed 12V Motor for power dc motor of 12V to 24V motor using TL494.