12V Fluorescent lamp flashing circuit
This is flashing blinks circuit, 12V sizes. By use fluorescent lamp the small-sized.It live the work of relay perform be the circuit modifies from DC to be AC Volt With mechanical technique. The relay is perform edit volt 12V Car battery each time from at relay open the circuit. The induction that happen coil of relay improved by output transformer give high voltage. To just encourage give fluorescent lamp 24 sizes are inch be born fluorescent can upward. Which can use be flashing the emergency is when be born an automobile can lose.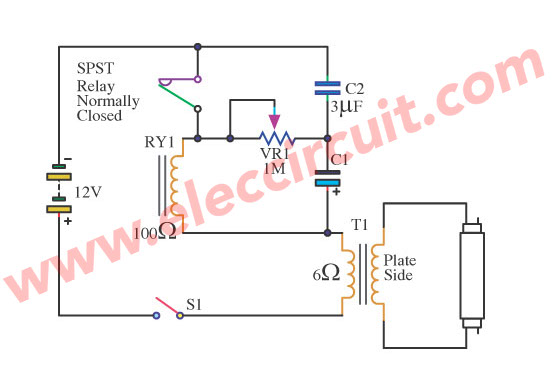 Related Links
12v lamp flashing
Fluorescent lamp flashing circuit
12V Fluorescent Lights circuit
Fluorescent Lamp circuit
80W Flourescent Electronic Ballast by PHE13005
40W Magnetic Ballast With Electronic Ignition
Mini Flourescent Lamp Inverter
14 Watt Compact Fluorescent Electronic Ballast
12v Fluorescent Inverter by TIP3055
Electronic Fluorescent Lamp Ballast
Fluorescent Lamp 8W driver by C1983
A simple inverter for florescent lamps by D882
12 Volt Fluorescent Lamp 20W Drivers
Related Posts :
With this circuit and component is not so much to give us the light. Portable to get about easily to get to Fluorescent light of power supply be b ...

This is super lamp flasher light. It is have high power out load(lamp 12V). I used the Transistor 2SC1061 or H1061 or TIP41 for drive lamp ligh 12 ...