Now, small electrical appliances have a microcomputer that requires the 5V power supply. Why it can use only one 1.5V battery? There is 1.5V to 5V boost converter circuit inside them.
Let's start to learn the simple boost converter.
How it works
Also, we can use the nickel cadmium/nickel metal hydride battery of 1.2V, alkaline battery to these appliances.
The microcomputer requires a low current power supply. This 1.5V to 5V boost converter circuit is small. So, it can be in the game players, MP3 portable, DVD players.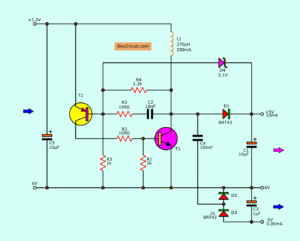 This 1.5V to 5V boost converter circuit as above is applied from this boost converter into a new circuit.
The important is T1, L1, and D1 like the previous circuit. But additional the Zener diode D4 is regulation to makes the stable output.
This circuit converts the 1.2V or 1.5V input voltage up to the 5V.  While it can apply the current of 10 mA. This current level is sufficient for the general microcomputer.
However, in some appliance may have the LCD display inside. For example, game players, MP3 players, etc.  They require the -5V power supply.
Using C4, D2, and D3 is the simple charge pump converter, make -5V. The current of this section is about 0.5 mA.
To begin with, apply the current to the circuit.  The current cannot flow through L1.  Because  T1  does not get the bias current.
Then, T2 starts working with the current from 1.2V.  It flows the emitter to base of T2 through R5 to full circuit.
The T2 provides current out of the collector to be a biased current to T1. The T1 is conducting.
Now the L1 connects to the ground like a normal boost converter. But the working of T1 makes the voltage across collector-emitter is lower. When the results of this work as a switch.
Then, T2 has quality conducting.  R3 and C2 make this system is high performance. Also, T1 is good working.
The L1 pass the high current until the maximum in linear form.  After that, the polarity of the voltage across L1 changes.
The performance of this circuit is about 60%.  The advantage of this circuit.  The voltage drop across it is low.
While the transistor switch on the voltage across between collector-emitter is only 0.2V. But it can supply the high current.
This concept optimizes the performance of the power supply circuit.