This is simple 12V to 24V step up converter circuit. It can step up the voltage from 12V into 24V. But the current reduces to about 1A max. The main part is TDA2004. Why use amplifier IC? It is easy to builds and inexpensive.
Note: Also this you can see these: 12V to 40V DC converter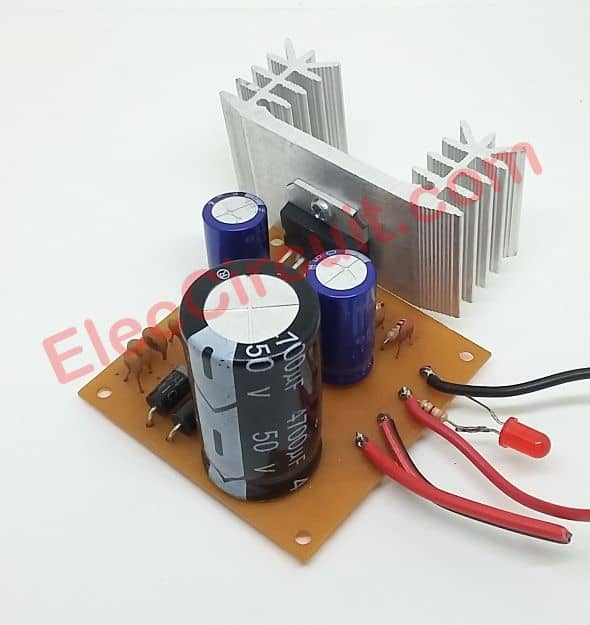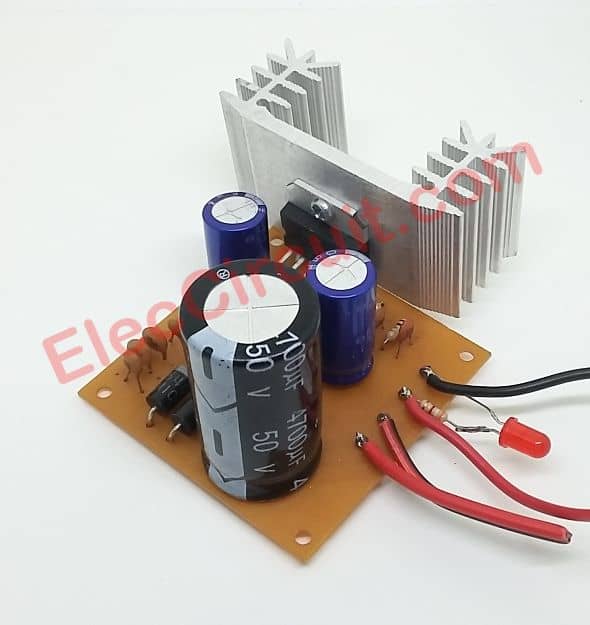 We can increase the DC voltage from 6V into 12V, or from 12V to 24V with this circuit. It is a simple DC to DC step-up converter circuit. Using TDA2005 or TDA2004 is the main component.
This circuit is similar to Simple DC to DC step up converter using TDA2822.
At the same, we use an amplifier IC. But we do not use it is a power amplifier.
We use it to produces the high current pulse to the simple double voltage circuit. Which they include the capacitors and diodes.
This does not need to use any coil. So, It is easy to do.
The working principle
First of all, the voltage comes to the circuit. Then, this voltage will charge to C5 through D1. At the pin 10(output) of IC1/1 has the voltage rises up. Until almost equal to the voltage of the power supply.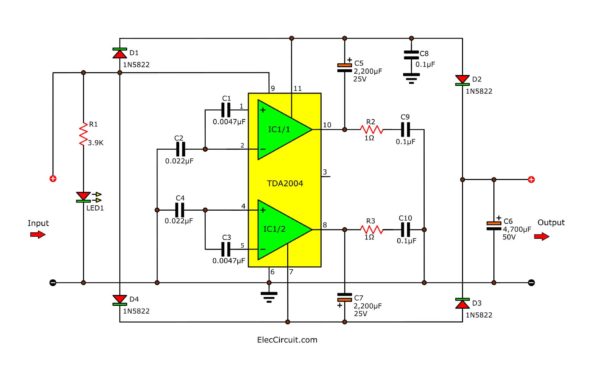 Circuit diagram of step-up DC converter using TDA2004
Next, D2 pass the current to charge into C6. It makes the voltage at pin 10 of IC1/1 is about 0V. But the voltage across C6 or the output equals about the power supply.
After that, the output(pin 8) of IC1/2 start to has the voltage rises instead. Because C5 stop charging. So, C7 is charged instead, through the power supply.
Thus, there is the current pass D3 to charge into C6. And, at pin 8 has voltage is about 0V.
Then, the operating of the circuit will restart same the first again.
And, both current get out of pin 8 and pin 10 will be combined at C6.
This makes the output voltage to rises up to 2 times of input. Because the voltage of pin 8 and pin 10 are the input mixes together.
The capacitors C1 through C4 acts as square wave generator about 5 kHz. To determined working of IC1.
Building, Testing, and Application
When we get fully equipped, and build PCB as Figure below. And then, soldering equipment as Figure.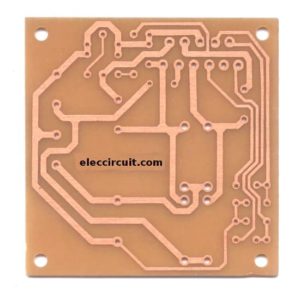 PCB of 12V to 24V step up converter circuit using TDA2004

the component-layout of the 12V to 24V step up converter circuit using TDA2004
After examining the faulty circuit. Then test them with 12V battery at the input and measure voltage output will have about 22V. Please watch a video below.
If you have a 6V input. It can increase the output voltage is 12V. Or, enter the input is 12V, the output is about 24V.
Really, We can enter the input voltage of 5V to 12V. It does not should more than 18V.
Parts you will need
Resistors 0.25 watts
R1—3.9K
R2—1 ohms
Non polar capacitors such as Ceramic, Mylar , polyester
C1, C3—0.0047uF 50V
C2, C4—0.022uF 50V
C8, C9, C10—0.1uF 50V
Electrolytic capacitors
C5, C7—2200uF 25V
C6—4700uF 50V
Semiconductors
D1-D4—1N5822/1N5404
IC1—TDA2004/TDA2005
LED—5mm color as you like.
Others part, PCB, Heatsink, etc.