Most IC-555 is used to generate frequency, and sometimes we need to know. Is it good or bad? But normal multimeter cannot check it. Thus, I make a simple 555 ICs tester circuit. Which is tested correctly and faster.
How it works
Resistors R1-R3 acts as limit current and reduce voltage to LED1-LED3. Which is LEDs show state on "Trigger" or "Low" or "High". The Diode D1 is set voltage to pin 2 less than 1/3 VCC (0.7 volts). When slide switch S1 at position 2 (Trigger IC).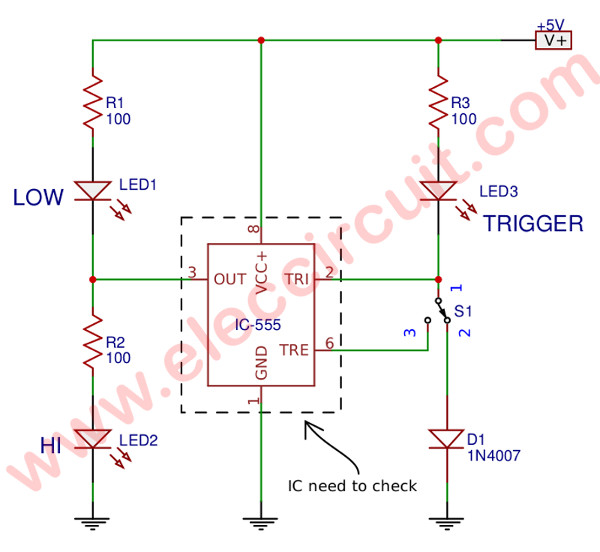 Before apply voltage to this circuit, we must put the test IC to socket completely. When enter voltage to the circuit and switch S1at position 3 (no trigger) will see LED1 (low) glow show that the output in state " low" voltage at the B point about 0.2 volts.
Next, trigger at pin 2 by slide S1 come to position 2 cause voltage at pin 2 about 0.7 volts. Thus the output voltage will change state is "high" voltage at point B about 3.5 volts. The LED2 ( High) and LED3 (Trigger) glow and when switch S1 come to position 3 will cause LED2 and LED3 go out.
In this case above will show that IC-555 is good. But apply the power supply to this circuit, then switch S1 to position 2. The LED1 will glow but after that slide S1 come to position 3 but LED1 still glow up. If when apply voltage to this circuit then LED2 will also still grow (S1 at position 2). And slide S1 come to position 3 also still not change state show that this IC-555 bad.