No light! because of a low-voltage battery. How do you increase the voltage? You can do many ways. And, I recommend a simple step-up converter circuit using TDA2822. It can increase the input voltage of 3V-12V into 4.5V-22V at a max current of 300 mA. Imagine… With this circuit, you connect a 6V battery to a 12V lamp.
Oh…It is nice. But…Do you wonder why I use TDA2822? Often, TDA2822 is a small stereo amplifier well. Also, we can use it is the DC to DC voltage doubler circuit. They are a type of switching regulator circuit. But they are special patterns.  There are IC, diodes, and capacitors only. Without a coil or transformer!
So, this circuit is easy and cheap. I like them. Or you too?
How does it work
If you are not clear. See in the basic Block diagram again. The Step-up DC to DC converter is middle. It turns low voltage(input) to high voltage(output) for your load. And can increase the voltage about 2 times.

They are suitable for low voltage power supply. For example Rechargeable battery of radio communication, car battery, other small size battery, etc.
Recommended: What is switching power supply vs linear, how does it work?
A simple principle of the circuit
Here is a complete circuit of the simple DC to DC step-up converter project.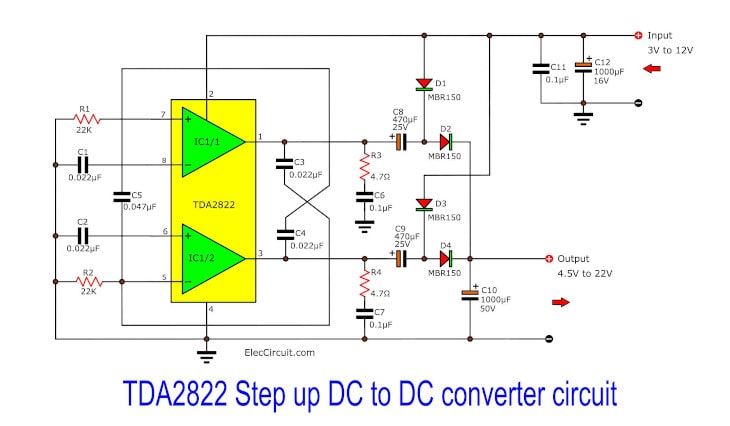 Here is a complete circuit of the simple DC to DC step-up converter project.
Look! The TDA2822 is striking with a new style.
You may like to read these posts, too.
You will see that inside IC has two op-amps. So, we set it in the astable multivibrator circuit. They make a pulse generator.
To control the on-off of four switching diodes (D1-D4) to charge and discharge at C10 to output.
We will have voltage is nearly two times of input voltage. Because of the voltage of C10.
Related: 555 DC to DC converter circuits
I feel that I explained to you not good enough.
Please keep seeing block diagram below.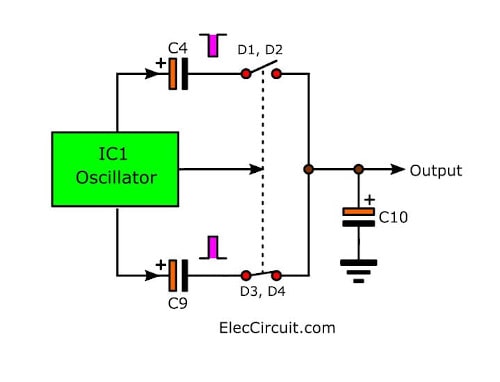 I feel that I explained to you not good enough.
Please keep seeing block diagram below.
C10 is similar to a water tank. And, four diodes are a one-way valve.
They will work alternately. Because of different polarity.
Also: Simple 6V to 12V boost converter circuit using BD679 transistors
Suppose that the positive voltage of pulse comes. Cause D3 and D4 are ON. But D1 and D2 are OFF. The C10 will keep this voltage.
After that, the negative gets in, now D1 and D2 are ON. But D3 and D4 are OFF. So, C10 keep this voltage, too.
How it builds
This project, I bought the Kit from the store. So, It does not have the copper PCB layout. I cannot give you. I am sorry. But I think you are good. You can solder them on universal PCB.
Below is a normal PCB. It is not clear.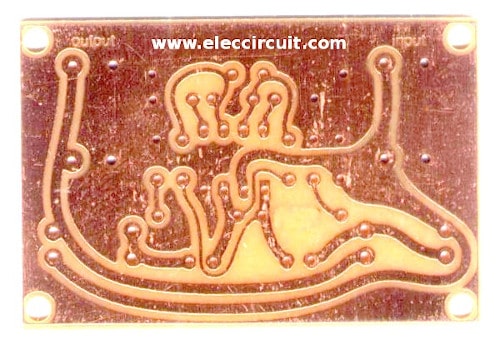 The Real PCB that I am sorry it is not clear.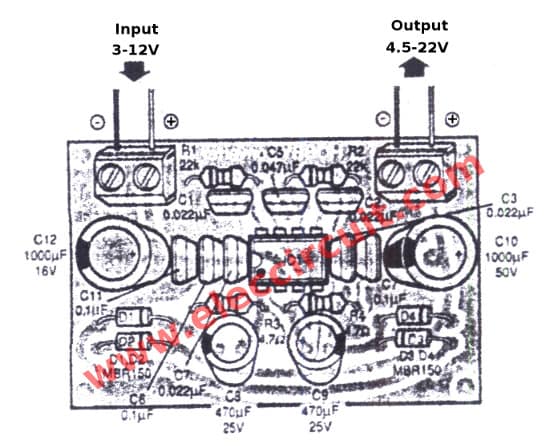 Read next: USB 5V to 12V DC-DC Step-Up Converter circuit

The components layout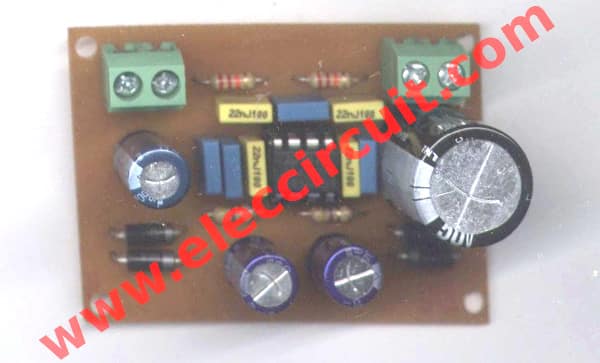 We finish the DC to DC step-up converter
Check out these related articles, too:
Components lists
You may buy or find the electronic components as follows list.
Resistor 0.25 watts
R1, R2: 22K—2 pcs.
R3, R4: 4.7Ω—2 pcs.
Ceramic or mylar polyester Capacitors
C1, C2, C3, C4: 0.022μF 50V—4 pcs.
C5: 0.047μF 50V—1 pcs.
C6, C7, C11: 0.1μF 63V—1 pcs.
Electrolytic capacitor
C8, C9: 470μF 25V—2 pcs.
C10: 1000μF 16V—1 pcs.
C11: 1000μF 50V—1 pcs.
Semiconductors
D1-D4: MBR150, Fast frequency Diode—1 pcs.
IC1: TDA2822, stereo audio amplifier 1 watts+ 1 watts—1 pcs.
Others
Terminal, Sockets 8 dip, Universal PCB, and others.
Testing and Application
We must check this circuit for error.
Then to try a power supply to input point by a voltage of 3-12 volts since it can use voltage in this range. Which at the output will be 2 times of input.
Read also: CAR DC to DC converter circuit, output +/- 27V to +/-50V using LM3524
This project applies a maximum current load of 300mA. And in while no load will pull current 6-8mA only.
The application may use any battery between a voltage of 3V-12V to an input of the project. Then the output is connected to any circuits that use voltage 4.5-22 volts and current about 300 mA.
Use 12V LED lamp by a 6V battery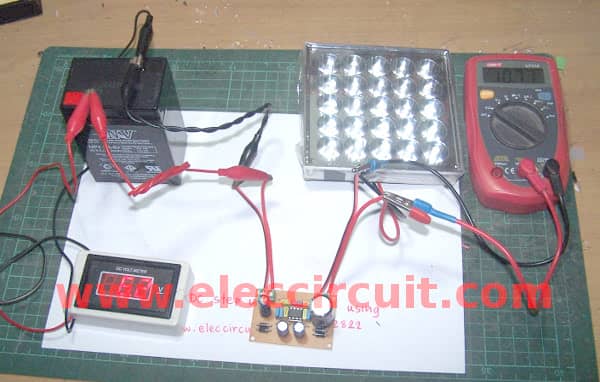 Connect 12V LED Lamp to 6V battery using this project
I have a super bright LED lamp that uses 12 volts 1.5 watts only or 150mA but I have 6 volts battery only.
As Video below. We cannot use them. Then I test it with this project.
It causes the voltage output is 11.8 volts. And I connect the LED lamp to output making it glow and have voltage 10.9 volts.
Conclusion
It is easy to increase voltage. You can use this circuit for any loads that low current. You can read a book at night under a LED light. Even low voltage battery.
Click! More…Step-up DC converter with adjustable output.
Get Updates via Email

We always try to make Electronics Learning Easy.