Simple pre mic dynamic and Electrec condenser micro phone
This be simple pre mic circuit, that can can enlarge both of dynamic micro phone and , Electrec condenser micro phone. Then convenient for usable with small-sized stereo or the indoor.
By entering into power supply circuit LED1 will light showing the work of circuit conditions. The operation of this circuit has mic input 2 parts Electrec condenser micro phone and dynamic micro phone that it was Mike's party that does not require power. When it come it passed to the C3 functions coupling capacitor signal filtering out only the signal to enter the B pin of Q1 amplifier to force up the signal output is exported to the C pin of Q1 and through C5 coupling signal edge again before leaving to the output of Electrec condenser micro phone as Mike used to cycle around beyond the required power supply flows through the it approximately 1 mA with R1 to limit current entering the Electrec condenser micro phone on the receiver. sound one. Signal to noise coupling through the C1 and C2 to have but a single voice.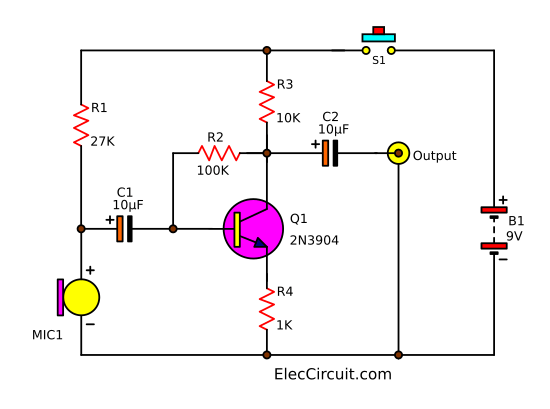 Then the signal will be stretched out by Q1 and through the legs C C5 coupling signal before leaving to the output of R2 is organized as a bias feedback.
Signal from input to output stabilization in the work The output of the circuit is connected to a headset. Or may be connected to any power amplifier.
Related Links
More dynamic pre mic circuit
More circuit about Electrec condenser micro phone
Pre mic audio amplifier with ic LM386
Circuit premic condenser into electrical signals
Pre amplifier with transistors BC548
PCM2902 Soundcard with Microphone Input
ECM Mic Preamplifier by BC549
Related Posts :
Circuit Pre Mic Condenser Mic is bringing to change the sound to electrical signals.Then the electrical signal that is to expand the force was the ...

This circuit be signal sound expansion from condenser microphone give with small-sized loudspeaker. It compose the importance is part pre mic use ...