If friends are looking Dynamic Microphone Preamplifier circuit is high quality. So the low noise signal. I suggest this circuit because It use the three transistor (2SC945, or 2C1815 or 2SC828) is main Which typical transistor amplifier with a low noise this circuit, too. There are about 200-300 times the gain. The frequency response is 50Hz to 100KHz.
This circuit use the 12 volts – 24 volts DC power supply.
An they is designed for use with 200 Ohm dynamic microphones. For usage with low impedance microphones.
You can see the project Dynamic Microphone Preamplifier using C945 transistor 2 vertion and easy to build with pcb layout see below.
Circuit of Pre MIC – 3 Transister (C945) mono

PCB of Pre MIC – 3 Transister (C945) mono
The second circuit.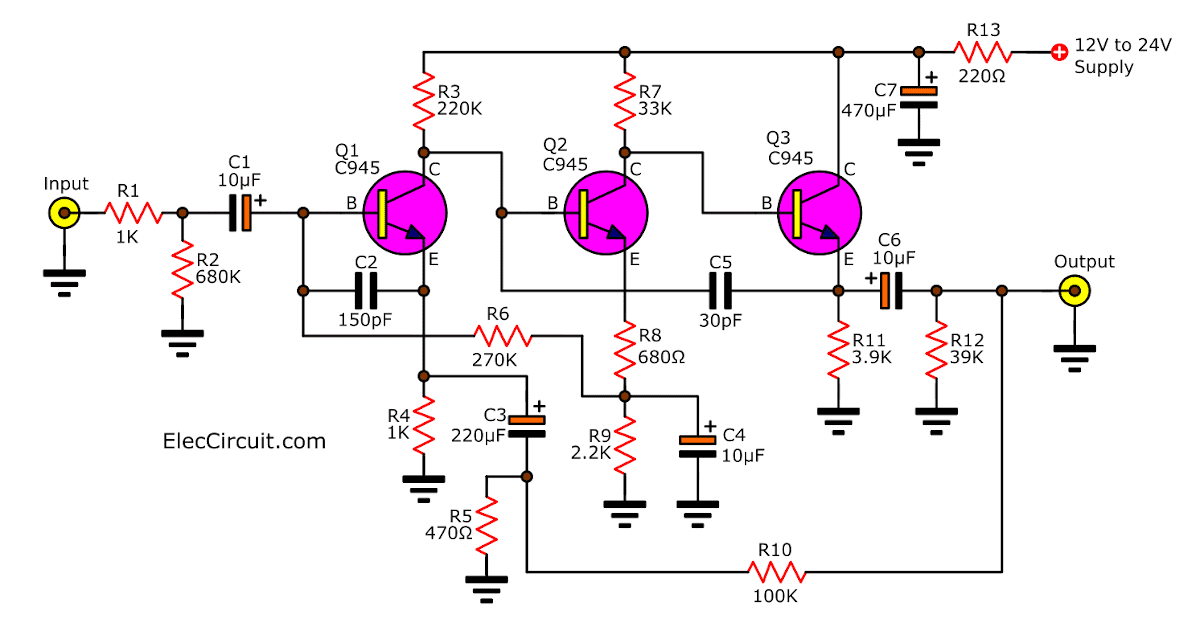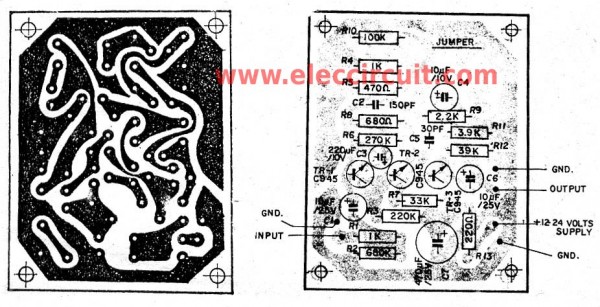 Pre MIC mono by 2 Transistor C945
This is low noise microphone preamplifier circuit, by 2 Transistor mono part name C945 or C828 or 2SC829 or C458.
The supply volt is 12V – 24V. Easy to build and low cost.
I have an old microphone,I want to make play with common amplifier. It does not sound much. Must to use pre amp before.I search a lot of circuits, see this circuits it very well for me,low cost, use transistor.

Circuit of Pre MIC mono by 2 Transistor C945

PCB of Pre MIC mono by 2 Transistor C945
Note:
This circuit is not design PCB. If you do not want to design own PCB. Or use universal PCB Board that difficult.
I would recommend a CanaKit UK494 – Dynamic Microphone Pre Amp (Assembled Module). It is a DIY Kits available for use. I hope this guide is helpful for you.
Although the circuits are is not the same. It can produce sine wave signal as well.