This General purpose active bass boost circuit is low pass filter that famous for decades over the years,can be used to increase the bass to the amplifier gain.
The characteristics similar to a normal tone control circuits, It is designed for high frequency in the Flat form. But The low frequency or bass can add more or less by adjusting the VR1.
This circuit will use , power supply 12 volt. When feed input come in sound signal will coupling change C1 and R3 go to reach at pin B of Q1. Which Q1 do something signal booster give the power goes up in the one level before from that time signal at enlarge already will go out the way pin E of Q1 go to reach at C2 for coupling sound signal again from that time signal go to reach still filter frequency part.
Figure 1 The schematic diagram of this project.
Which signal first part will change C3, C5, R8, R9, and R10 By perform eradicate high frequency and signal again the part will change R5, R6, R7 and C4 Which be low pass frequency change by have VR1 be formed fine low frequency level or sound bass too much or the a little from that time signal bilateral the part will congregate to go to reach at pin 2 of IC1.
Then do something signal booster go out 6 leg ways of IC change C7 go out still output and sound signal again one from pin 6 of IC fed get back still filter frequency part for control expansion way frequency ratio has good stability output of circuit induce build reach pre tone section next.
This circuit can used from 12 – 18 volts, making it easy to use and find local power supply.
Connection
There are 2 types of connections, the magnification of the amplifier as follows. (Look at Figure 2)
(1.) The application with a power amplifiers that power output less than 60 watts.
To apply the audio signal to the tone control circuit to this circuit and then to input amplifier circuits
(2). This way is best, connecting it to font the original tone control circuit for more than 60 watts power amplifiers.
However, consider the watt amplifier, If you want best results, should be connected to the front sets the tone control is better.
How to builds
Make the PCBs as Figure 3 for MONO and Figure 4 for Stereo, as you see appropriate, then Assembling parts into the PCBs in the correct order.

Figure 3 The PCB layout and components for MONO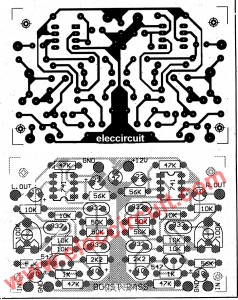 Figure 4 The PCB layout and components for Stereo
Then try the power to the circuit. Then adjust VR1 to the bass is like the best.
Caution
This circuit is not suitable for low-watt amplifier. And speaker who can not get the bass sound.
The parts you will need
IC1______LM741___General-Purpose Operational Amplifier
Q1______ BC549___45V 100mA NPN Transistor
R1,R12______ 56K____1/4W Resistors
R2__________ 1K____1/4W Resistors
R3,R13______ 47K____1/4W Resistors
R5,R7,R8,R9__10K____1/4W Resistors
R10,R11______50K_____"_______"___
VR1___Preset____100K
C1,C2,C8_____10uF 16V Electrolytic Capacitors
C3,C5_____0.0033 uF 50V Ceramic capacitors
C4________0.033 uF 50V Ceramic capacitors
C6___________47uF 16V Electrolytic Capacitors
C7___________22uF 16V Electrolytic Capacitors
Related Posts