This is a bass booster circuit that uses transistors as a base. It is designed to increase a low frequency of audio on cheaper than ICs or normally circuit. since use each channel only 2 transistors together with resistor and capacitors approximately ten parts only.
In circuit will have a potentiometer trimmer 10-50K act as an adjusting level of bass boost, more or less follow by the requirement. In Figure 1 is the circuit on mono or signal channels. But the PCB layout is stereo or dual channel there.
The working principle
On Figure 1 is the bass booster in the signal channel that use only two transistors are signal amplifiers. To begin with, the signal to input through C-10uF 16V is coupling signal into the base circuit of TR1 at pin B. Both resistor R-56K and R-47K is connected a divider circuit to separate the proper voltage to the base circuit is bias voltage to TR1, for the amplifier section in this TR1.
This setting to bring signal out to pin E(of TR1) cause current gain rate is high, but voltage will equals one is does not amplify voltage or easy to say is use TR1 is adjuster impedance of signal to lower then enter to the RC networks to separate and increase the bass signal to higher than other audio sound signal.
Also bass booster circuits  below
Figure 1 The Transistor stereo bass booster circuit
The signal from the R, C network will be too lower. Thus, must has the signal amplifier other next steps. Then, send to the OUT, and this OUT point will bring some signal feedback to the R-C network circuit to increasing boost up.
How to builds.
The build is not extra difficult, just use a special power supply of 12V smooth enough. It may be connected via R-100 ohms and has C-100uF 16V to ground. As Figure 2 All resistors in circuit use ¼ W. and Then, the wiring for circuit wiring and various components can view of the example in Figure 2. What to look out carefully for is the polarity of the electrolytic capacitors, Pin of the transistors are not error.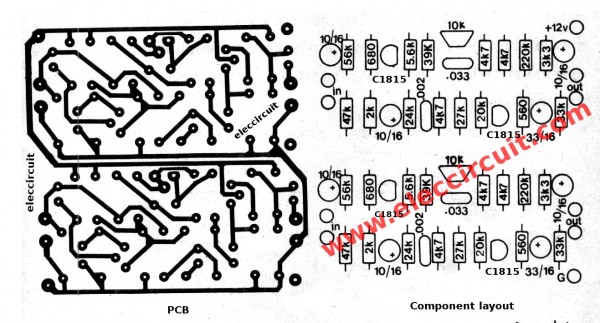 Figure 2 the PCB and components layout of Transistor stereo bass booster
The components List
TR-C1815 or C945 or C458_______NPN transistors_____4 pcs.
C-10uF 16V_____Electrolytic capacitors_____________6 pcs.
C-33uF 16V_____Electrolytic capacitors_____________2 pcs.
C-0.033uF 50V____polyester capacitors______________2 pcs.
C-0.0022uF 50V____polyester capacitors_____________2 pcs.
other see text.