This is DC Power supply 0 30v 5A, an Adjustable regulator is special that the output to 5A current. It uses LM723 DC voltage regulator IC + 2N3055 power transistor x2 to increase current up. So do the current too much than this circuit (easy circuit)
To use transformer 5A, Transistor 2N3055 to Hold Heatsink, VR1-5K to ADJ Volt Output.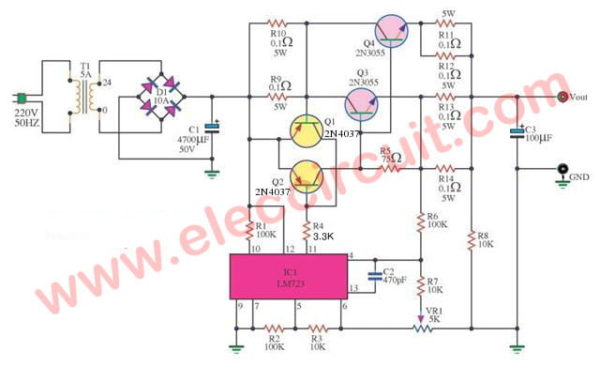 Circuit Diagram of Variable Regulator 0-30V 5A using LM723 and 2N3055 x 2
Note: I am sorry that tell you. I never build this circuit. So, I cannot confirm it works. If you are looking for 0-30 variable power supply.
I recommend this circuit better. It tested.
Also, You can increase current up to 5A with adding a transistor like this.
We do not offend you, In this Power supply circuit 0-30V 5A is adapted to the work
direct follow want of all of you.
This circuit is still the principle original everything. Just only changes the current limiting circuit. by use the resistors 0.1ohm 5W two pieces for the parallel, to be able to withstand loads as wanted.
We should not forget, use the resistor size 0.1Ω 5W amounting 2 pieces to parallel each other
Then, connected to the emitter of the two 2N3055. To offset features that might be slightly different, these two transistors.
You may also like these:
Parts you will need
IC1: LM723
Q1, Q2: 2N4037 or BD140 PNP transistor
Q3, Q4: 2N3055
BD1: Bridge 10A 400V
0.5W resistors
R1, R2, R6: 100K
R3, R7, R8: 10K
R9, R10, R11, R12, R13, R14: 0.1Ω 5W
VR1: 5K or 10K potentiometer
C1: 4,700uF 50V to 7,200uF 50V Electrolytic
C2: 470pF 50V Ceramic
C3: 100uF 50V Electrolytic
T1: Transformer 24V 5A
PCB, big heatsink, and more.
To create just operators device in a PCB form and then to make correct completed is available. Without you have adjusting customized at any the circuit.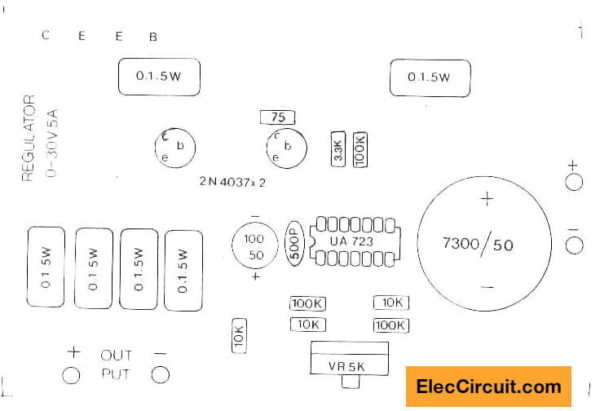 The Components layout of Regulator 0-30V 5A using LM723 2N3055
Note: This is so the old circuit.
It does not has a reference voltage for 723 and not fully overload protection. Please look at :
Related Posts