DC voltage adjustable power supply 0-50V up to 2A by ua723-2N3055
The Circuit power supply regulator 0-50V 2A by IC LM723 + Transistor 2N3055 & BD140 & A671 is nice Pwer supply,
For all electronic user. You can Current control by VR 5K, LED5 For display OVERLOAD.
To use transformer 3A, Transistor to Hold Heatsink. To adjust the output voltage< VR1 - 5K (VOLT CONTROL)
OUTPUT : 0V to 50V , 2A
Today I would like to introduce you to DC Voltage adjustable regulator voltage between 0V to 50V and current up to 2A. Which are suitable for various electronic circuit, when viewing circuits in the figure, many people will think that, in this circuits outdated, but I think, it is also highly effective are.
The VR2-5K be adjusted voltage output between 0 to 50Volt.
-The VR1- 5K be fined current output load 0 to 2 Amp.
- When the short-circuit current limit or severe, it is a good system.
- Low noise, due to the use IC uA723 dc voltage regulator IC which is high quality, widely used for many years.
This circuit uses transistors A823, 2N3223, 2N3055 is boost up current to 2 amp.
When a short-circuit. LED1- Overload status light will not have current to output and The three transistor TR4,TR5,TR6 works. Then when we check the circuits we tested, it usually works well, we press S1 to circuits to work normally.
In addition, this circuit. It is not difficult to create a PCB layout and equipment are. I hope this is helpful to you.
Almost forgot, you should the use transformer to optimize 3Amp size of the circuit.
Note:
But if you are not satisfied. We also offer this power supply circuits. Supply voltage 70V maximum ever.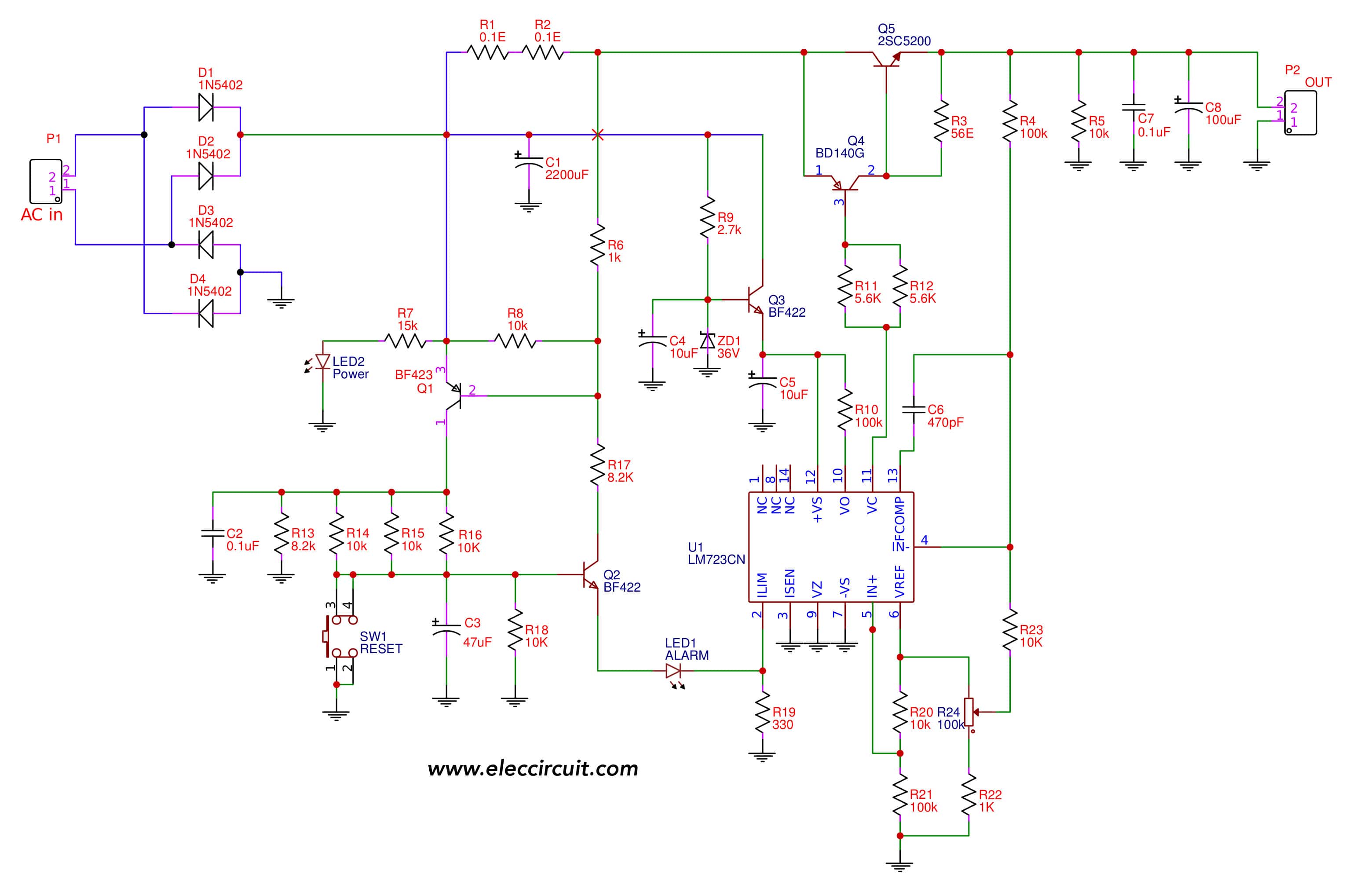 DC voltage adjustable power supply 0-50V up to 2A by ua723-2N3055

PCB of DC voltage adjustable power supply 0-50V up to 2A by ua723-2N3055

Variable Regulated DC Power Supply 0-50V 0-20A +++ Reasonable price
Related Posts :
This is circuit power supply regulator variable voltage 0-30V at 1A. it is old circuit I used IC ua741 or LM741 OP-AMP IC for control adjustable ...

This 0-30V power supply is special that the output to 5amp min 5A. It use IC LM723 + 2N3055 power transistor x2 part. so do the current too much t ...