If you need to build the amplifier circuit for your home. The TDA2030 Audio Amplifier Circuit may be best choice. Because it is cheap IC and easy to use. Suitable for beginners thought will build the electroacoustics to listen yourself. This project use IC of The SGS company number TDA2030, which SGS said that it is power amplifier IC in 5 pin form. Setting circuit on a class AB power amplifier to the output of the high harmonic distortion and low crossover, Ready, shock output protection, and the temperature is too high, complemented within the integrated circuit.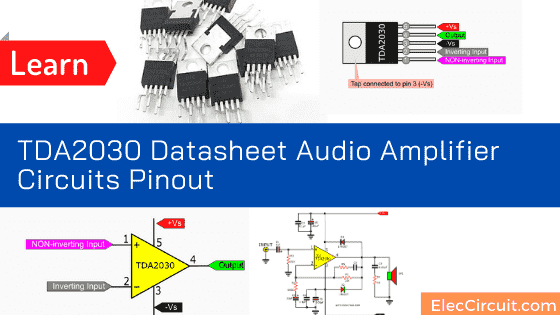 As we experiment to build this project, and listen to the sound quality nice. We turn the volume fully to several hours. The IC is not hot. Or just warm. Therefore, suitable for beginners build this circuit to listen with yourself.
Technical Specifications
– maximum voltage supply used of +/- 18VDC.
– Begin working at minimal voltage of +/- 6VDC.
– Power driver output 14 watt at 4 ohm and 9 watt at 8 ohm.
– Maximum current of 900mA.
– Frequency response range 10HZ-140KHz at -3dB.
The TDA2030 integrated circuit is best choice for make good audio amplifier circuit. It is used to make many amplifier output 10 watts to 200 watts. and a lot of types. Mono or Stereo and OTL, OCL, BCL (Bridge amplifier) Eg. the super Bridge 120W I love it because small, easy using, and cheap.
We can builds more circuits with it. below
14W + 14W Stereo amplifier circuit
30 watts TDA2030  Amplifier
Multi-purpose Amplifiers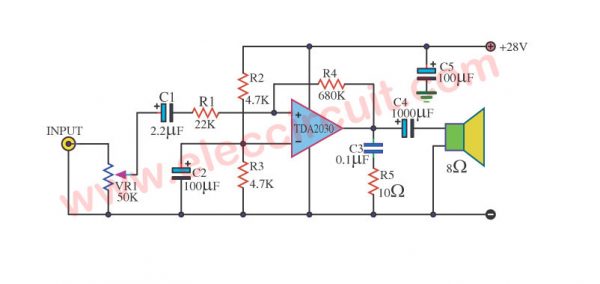 General Purpose Power Amplifier
 

OTL 20W  TDA2030 Power Amplifier
40 watts TDA2030 Bridge Amplifier circuit