This is simple 1.2V AA battery Solar charger circuit. If you want to charge only one 1.5V AA battery and must used at outdoor that don't has home electricity. We will also use fast it so we need to application devices near us.
This project is very easy and cheapest because we use a solar cell 3V 160mA and I measure voltage about 3.3V as Figure 1 so enough for charging.
And I will use AA 1.2V 700mAh Rechargeable Nickel metal Hydride Battery.
In addition, we need to have a diode. To prevent reverse voltage from a battery to the solar cell when no sunlight.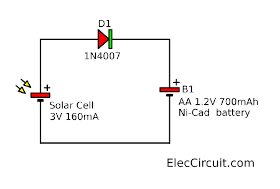 We use a number 1N4007 diode because it is cheaper and high pressure 1000V 1A general enough to use it.

AS Figure 2 we connected them in series are simple circuit.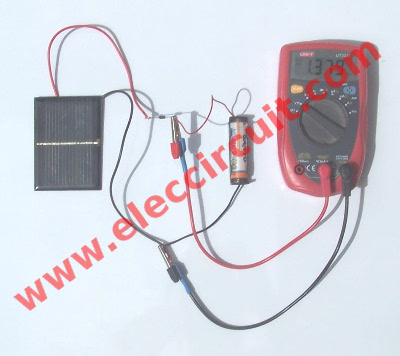 We will take a charge of about 8-10 hours, or about 8.00 to 17.00 clock.
It will have full power, can measure voltage of approximately 1.3V. as Figure 3

Simple solar radio battery charger
This is the simple solar solar radio battery charger circuit. A solar cell radio used a 3V (or two 1.2V) nickel-cadmium battery or nickel-metal hydride battery in it. The battery can not be removed.
It uses a mini-jack socket for charging. It is quite difficult to find such a voltage charger. Here is the circuit to convert the voltage from the general power supply or Solar cell. This circuit cause voltage drop across the battery is 3 volts.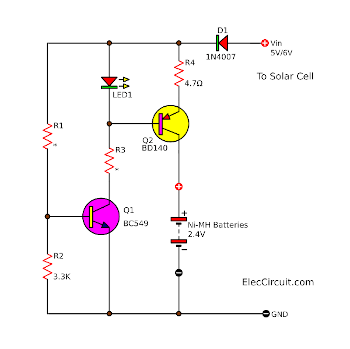 How it works


Simple solar radio battery charger circuit
In circuit, we use two transistors for controls a steady current to the battery.
The resistor R-22 ohms and 3.3K are connected as voltage divider circuit to bias NPN transistor BC547 works.
Then LED1 light up and voltage is steady so the current through the PNP transistor BD140 is the fixed(steady) current to charge the battery.
We can use the Vin as both 5V and 6V, which we need to change:
R1=22 ohms for 5V and R1= 27 ohms for 6V ,and then
R3=270 ohms for 5V and R3=330 ohms for 6V
Parts you will needs
Q1_BC547_45V 100mA NPN Transistor; Quantity = 1
Q2_BD140_80V 1.5A PNP Transistor; Quantity = 1
R1_22ohms(5V),27ohms(6V)__1/4W Resistors tolerance: 5%
R2_3.3K__1/4W Resistors tolerance: 5%
R3_270ohms(5V), 330ohms(6V)__1/4W Resistors tolerance: 5%
R4_47ohms__1/4W Resistors tolerance: 5%
What is more? Not only that. Look:
Related Posts
GET UPDATE VIA EMAIL
I always try to make Electronics Learning Easy.