If you want to create the 100 watt OCL audio amplifier circuit. I have many circuits for you, transistors, and ICs.
Now using IC is a better choice. I want you to consider this circuit.
It uses the STK4231 chip to create a simple, small, without adjusting, and economical.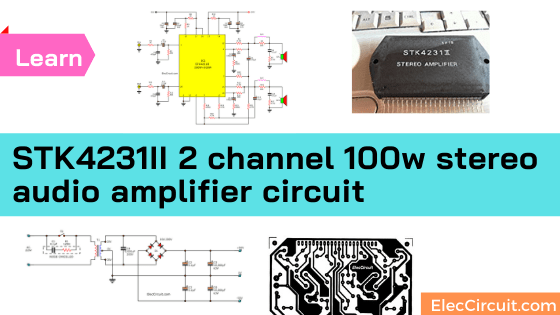 How it works
The STK4231 is a Hybrid IC of Sanyo, in the family of STK4201II. It can provide a high power output of 100 watts per channel.
And When connected to the bridge adapter. The its output altitude up to about 400 watts (It's incredible).
The feature
It has main feature.
Built-in muting circuit to cut off various kinds of pop noise.
Greatly reduced heat sink-due to case temperature 125 degrees Celsius.
Excellent cost performance.
As this circuit, we can design the OCL amplifier 100 watts each channel. You will see that, this circuit consists of only a few external components.
Some detail may help you easy.
The capacitor C9, C10 is used to reduce noise at high frequencies.
Both C1 and C11 are the input coupling capacitors.
The C2, C12 is defined for low-frequency cut-off point.
Which we can calculate from the formula :
F=1/6.28 C2xR5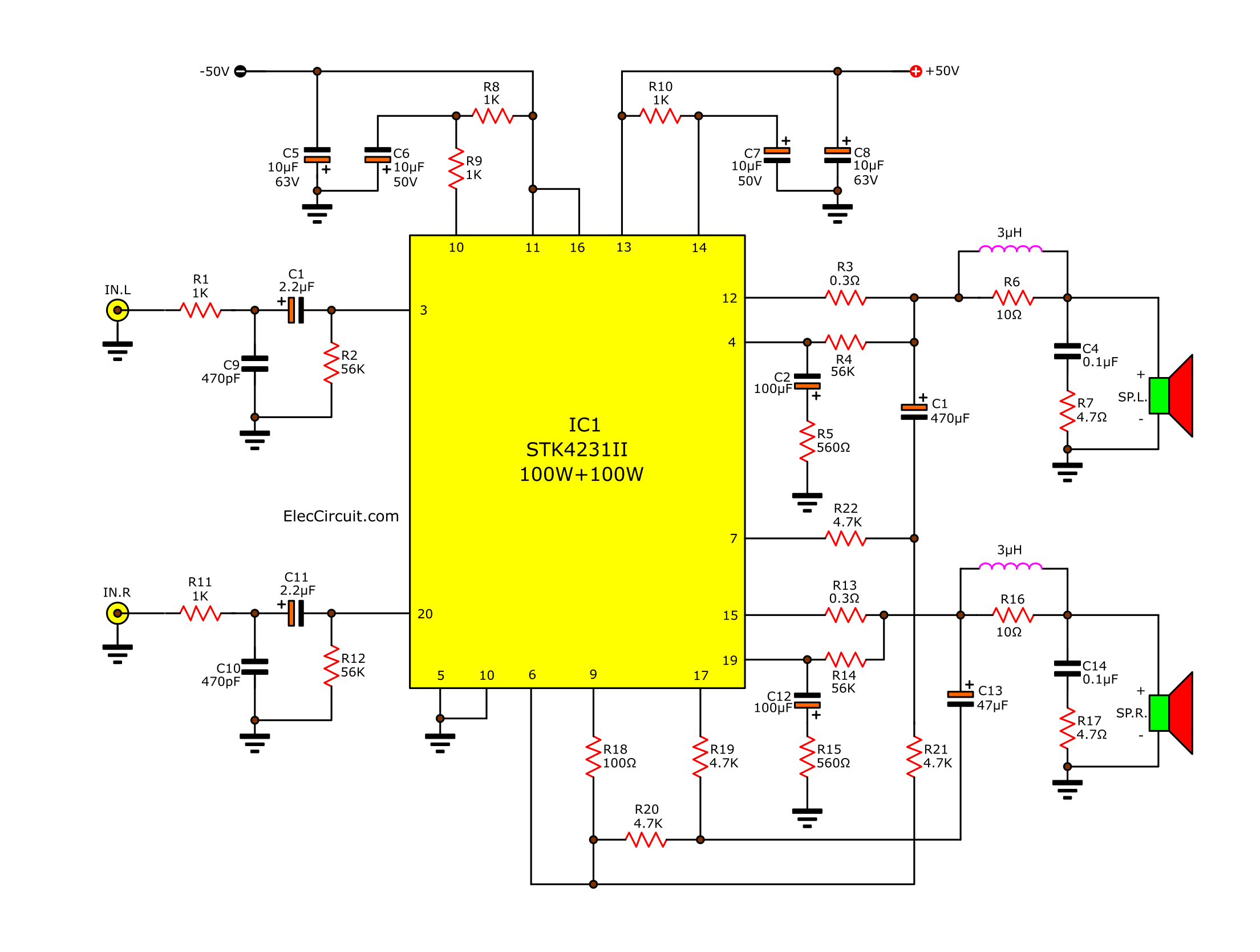 Note:
Both capacitor C2, C12 is defined gain ratio at low frequency. But they must do not over high.
Because, while open this circuit. It will be has a noise "thub…b.b.b" out to your speaker.
2. And both C3 and C13 are the boost trapping capacitors. If this value is too low. It will make more distortion at low frequency.
Then, both C5 and C8 capacitors reduce oscillation. Which, it will reduce the impedance of the power supply circuit to suit the use of IC.

Setting the gain ratio of the circuit.

It is defined by R5 = 560 and R4 = 56K. They will be total gain is VG = 40dB.
If you want to change the rate of expansion, it should change the R5.

Change idle current is defied by R21 and R22 resistors.
Hey! Oh… Is it too large circuit for you, Right?

Look below: You may like it.
Caution! This project needs to use the speaker protection circuit. Otherwise, your speaker may be damaged.
The power supply circuit

In this circuit requires the dual power supply circuit (positive – negative 50V and current is 5 Amps.
See the circuit below.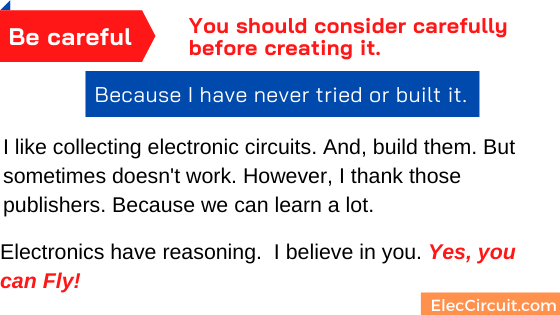 How to build

It's very easy to build, even if you are a beginner. It is important to place the devices correctly follow the circuit diagram.

In this figure is PCB and putting position the parts.
Here is Copper PCB Layout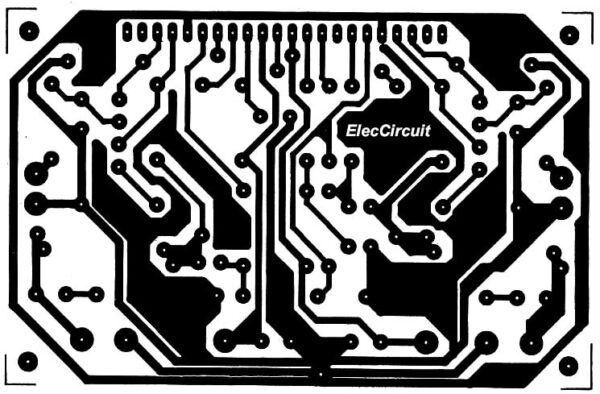 Then see components layout.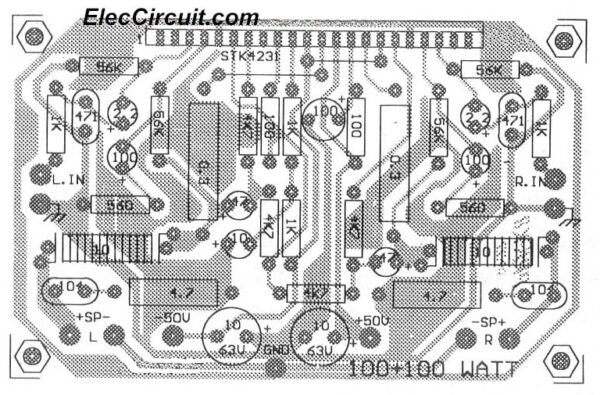 Shopping list
25W Resistors, tolerance: 5%
R1, R4: 470K
R8: 100Ω
Ceramic Capacitors
C9, C10: 470pF 50V
MKT (Metallized Polyester Film Capacitor)
C4, C14: 0.1µF 63V
Electrolytic Capacitors
C1,C11: 2.2µF 25V
C2, C12: 100µF 25V
C3, C13: 47µF 25V
C5, C8: 10µF 63V
C6, C7: 100µF 50V

Semiconductors and others:
IC1: STK4231II 2-Channel 100W min AF Power MODULE
L1: 3uH inductor
Note:
The IC STK4231II should be installed with the big heat sink.
Thanks a lot: Prakit Book
You may like these circuit, too.
Other circuits are recommended
More Audio Amplifiers with PCB
Get Updates via Email

We always try to make Electronics Learning Easy.