Inverter 100W 12VDC to 220V by IC 4047 – IRF540
This is inverter 100W circuit, use IC 4047 alike inverter 100W transistor I use Mosfet IRF540 instead Transistor 2N3055.

It good Idae, power output 100W from transformer 2-3A.

Read detail more in circuit.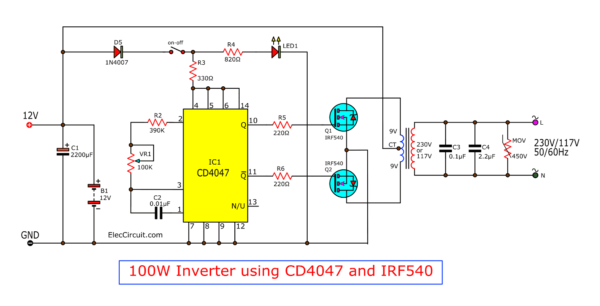 Related Links
Power inverter 220v
More circuits about IC 4047
Home power inverter
More circuit about IRF540
Inverter 100W by IC 4047 + 2N3055 (with PCB)
Inverter 12V to 220V 300W by NE555,2N3055
12 Volt to 220 Volt Inverter 500W
Inverter 100W 12V to 220V by Transistor
Related Posts :
This circuit power Inverter 100W, so input voltage 12V (battery 12V) to output volt 220V ac 50HZ, it is asy circuit because less component to use ...

This be basic AC inverter Circuit. Convenient for the initiator who have to is extremely fond of something experience. Because of use IC 555 h ...