Imagine In a few minutes, you know that the electricity will go out. You do not have candles. You only have a flashlight from your mobile phone. But you need to save your mobile's battery. For emergency use. How will you do?
In your store, there are a 5 watts 220V LED Light bulb and a 12V battery.ฺ But, It is impossible to make the LED bulb bright with only a 12V battery.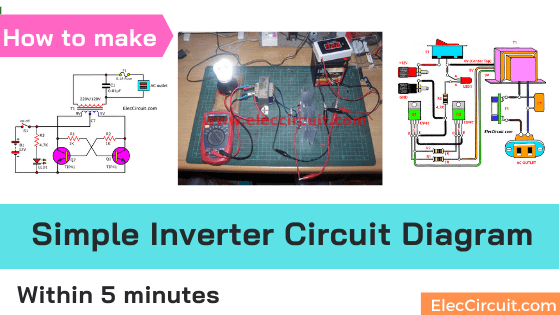 They need some help to make the battery voltage higher enough for that bulb. This is called an inverter circuit there. They can convert a DC 12V battery to AC 220V/AC 120V to apply a small light bulb or a maximum 10 watts lamp.
Here is how to make an inverter circuit within 5 minutes. In 2 simple inverter schematic diagrams below. Just using 2 transistors, 2 resistors, and one transformer only. Is it easy?
They include 2 circuit ideas
Micro-Inverter circuit diagram using TIP41 or 2N6121
Super Simple Inverter circuit using MJ2955 (PNP transistors)
Micro-Inverter circuit diagram using TIP41 or 2N6121
If you have 2 NPN power transistors, TIP41 and mint-size transistor, 0.5A. This circuit may be a great choice.
It can convert a 12V battery to ACV in the range of 180V to 220V. At the output frequencies from 30Hz up to 65 Hz.
You can use it for general appliances under 10 watts. For example, Small fluorescent light bulbs, LED lamps, timers, etc.
The LED Light bulb saves more energy than the fluorescent light bulb at same the lightness.
You may like this circuit. Because assembling the circuit you just wiring the parts together by a leg to leg only.
It may take about 5 minutes only to finish this circuit.
Note: Please read "Testing/application" below for real application.
Description circuit
The general inverter circuit uses an oscillator to drive a transformer with a power transistor.
Using dual transistors is push-pull switching to alternately works ON and OFF. Both transistors should have a similar gain rate. But do not need the same.
How it works
Look at the block diagram below.
When entering the power(DC12V) to the circuit. One of the transistors will saturate (closed circuit) faster than another one.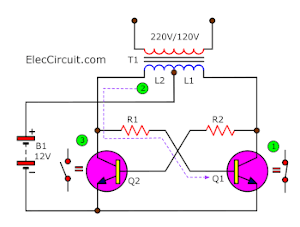 Suppose Q1 has closed the circuit first. So, the collector current of Q1 produces a magnetic field in the coil L2. Then, it gets more base voltage through R1. So, the Q1 quickly into a state of a closed circuit. Also, it makes Q2 is quickly an open circuit.
The condition is like this until the transformer core reaches a saturation point. Thus, the current flows to R1 reduce until cannot make Q1 in closed circuit status. The Q1 is the opened circuit.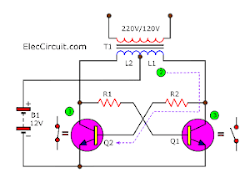 In opposite, while Q1 is slowly changing from the closed-circuit into the opened-circuit status. The Q2 will begin to conduct more currents. The current will flow through R2 to increase a bias current to Q2. It makes Q2 be closed-circuit quick.
Now, the current of the battery will flow to coil L1 in a reverse direction. It causes the voltage induction to be the opposite polarity in the secondary coil of a transformer.
The Q2 will still conduct current until the transformer core reaches saturation.
After that, this process of the closed-opened circuit between Q1 and Q2 will be the same again. As long as, DC12V is fed into the circuit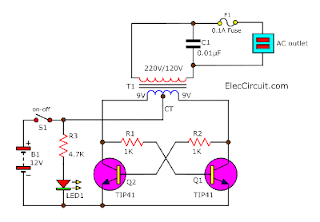 The micro inverter schematic diagram
Look at the complete circuit above. The designer put a few components:
C1-capacitor across the primary transformer to make the output AC voltage to be smoothed or low noise.
F1-fuse to protect output and the circuit when overload.
LED1 shows the circuit is running. Use R3- series resistor to limit current to a safe value.
How to make the inverter
For in the project, use a few components. So, we may use the wiring circuit below, without a PCB layout. I suggest some making techniques, as follows.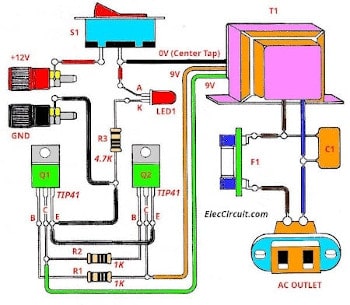 The wiring of this project
Proper way of mounting the transistor
Look at Fig below.
It is the proper way of mounting the transistor in a heatsink. Use a mica insulator insert between the case and body of the transistor. Then, use a plastic insulator. Next, hold the transistor body with a hex nut and metal screw.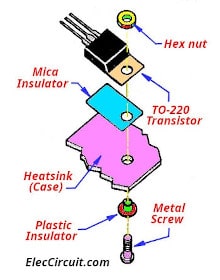 The mounting of the transistor on the heatsink
Remember! Do not any lead of transistor touch to a case or short circuit between these leads.
Check the short circuit!
We may check resistance to be sure that no electrical shorting to the metallic case exists.
Set to dial of the Digital Multimeter(DMM) to CONTINUITY. Then, touch the end of both probes between each lead (B, C, and E) of the transistor and the metal case. It should be silent and read OL.
.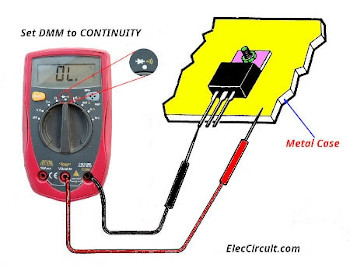 Check short circuit with a multimeter
Testing/application
I test working as follows step:
1. Get the 12V battery, 2.5Ah, or 12VDC regulated power supply, the current is more than 2A for testing.
2. Set the dial of the DMM(Digital multimeter) to ACV to measure the output (outlet).
3. Apply the 12 V battery to this project.
4. Measure the output voltage. You should read voltage between 220V to 330V.
After that, try to use this inverter circuit project to load, 3 watts LED lamp. Because of low power consumption.
This circuit has an output power of about 5 watts to 10 watts only.
As in the above video, LED lamp glows brightly for 3 hours. Because it uses 0.5A only.
Other choices
Since I have limit components.
I assemble parts include 2 x TIP41 with the heatsink, 1K-resistors on the universal PCB board.
I use 0.75A, 9V CT 9V transformer.
But this circuit may provide different frequency and output signal according to device specifications. But it doesn't matter. Because we use the load as LED light bulbs.
Components list
Semiconductors
Q1, Q2: TIP41 or 2N6121, NPN transistors 40W 45V 4A
LED1: Red LED or as you need.
Resistors (0.5W +/- 5% Carbon)
R1, R2: 1K
R3: 4.7K
Capacitors
C1: 0.1uF 630V AC mylar capacitor
Miscellaneous
T1: Transformer 220VAC or 120V primary coil/10-0-10V, 750 mA- secondary coil
F1: Fuse- 0.1 A
SW1: Toggle switch
AC- plug, mica insulator, LED, plastics, 12 VDC Battery, solid Wires no 20 AWG, nut, and screw, etc.
Super Simple Inverter circuit diagram using MJ2955
From the previous circuit, if it gives low watts output for you, me too. We can change some parts.
For now, I focus on circuits that use the necessary equipment. And only used temporarily.
In the event of adding power is more than 10 watts. It requires the transformer that provides the current over 2A and changes R1 and R2 are 100 ohms 5W instead.
This circuit looks like above tiny inverter circuit above.
But I change both transistors is 2N3055, and the use of R1 and R2 is 68 ohms 5watts.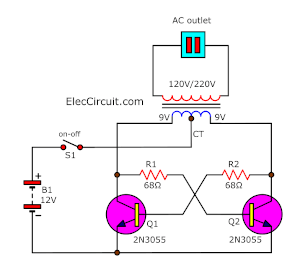 The 15w to 20watts inverter circuit diagram using 2N3055
Other ideas. I check in my store. There are a lot of MJ2955. It is match pair of 2N3055. But it is PNP power transistor.
I hardly ever used them.
Thus, I set new an inverter circuit diagram. See Fig. It is so easy. It two MJ2955, two 68 ohms resistors, and one transformer only.
You see really it is possible!
In this case, I do not need a high power and a long time using. Because I use the power of 10 watts for just a brief moment (30 minutes approximately).
Then, I look for all the parts in my store. I have a lot of MJ2955 power transistors.
Thus, I choose an inverter circuit diagram like Figure 1. It is so easy. It two MJ2955, two 68 ohms resistors, and one transformer only.
You see really it is possible!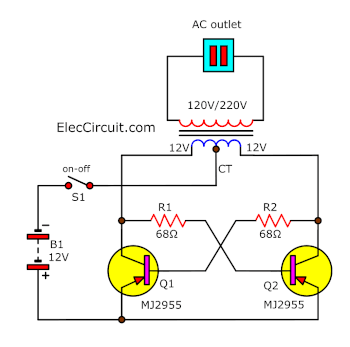 The MJ2955 inverter circuit diagram
In this case, I do not need high power and a long time using. Because I use the power of 10 watts for just a brief moment (30 minutes approximately).
Both transistors and two resistors are set in an astable multivibrator mode.
My friend that is a guru about power electrical tells me. Though circuit style will not have capacitors. But it can generate the frequency. The secondary transformer works as a load that can transform electrical to high voltage. But not sure is 50Hz. It gives a frequency of about 30 Hz to 90 Hz.
Depending on the device, for example, each transistor has different electrical properties. The battery voltage level also has an effect on frequency.
However, if the load is just LED light bulbs. It works without problems.
Let's build this circuit
This circuit is super simple and tiny in size. I assemble them on the heatsink and connect all wires as Figure in the video below.
Note:
Here is a proper way of mounting the transistor in a heatsink. Remember, check short circuits as above.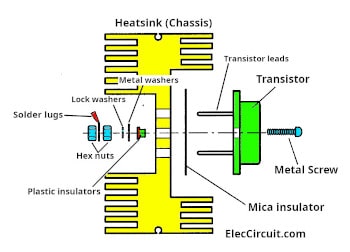 Testing
As in the video I use a 12V battery 2.5Ah size as a source. Secondly, I measure output AC voltage as 225 volts. Next, I apply LED lamps to the output. The voltage is lower to 190-volts and can keep up power( light smooths).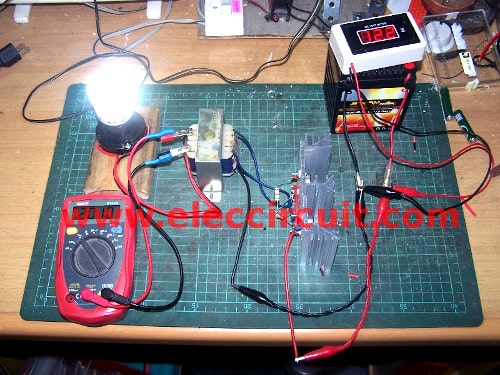 Application this project
The parts you will need
Q1,Q2: MJ2955 or TIP2955 PNP power transistors = 2 Pcs.
R1,R2: 68 ohms 2watts to 5 watts resistors = 2 pcs.
T1: 12V CT 12V / 220V or 110V transformer = 1 pcs.
If you want 20 watts output, use a 1A transformer.
Heatsink, 12V battery, etc.
This circuit has the disadvantage that the frequency is unstable. Therefore it is not suitable for prolonged use and should not be used with high precision loads. But is it worth it? It's easy and very cheap.
Also, You may use the project below it looks great.
See those circuits you may like it, too
Get Updates via Email

We always try to make Electronics Learning Easy.