We have many ways to indicates an AC line. First, when 230VAC is provided, the neon-lamp assemble L1 light up. Another way, the AC mains voltage indicator circuit with a LED. It may be the best choice. If you have more normal components in your store. It helps you save money.
I also like to use the LED for display the power AC line. Because it is cheap and convenient with a few components only.
Single LED on AC mains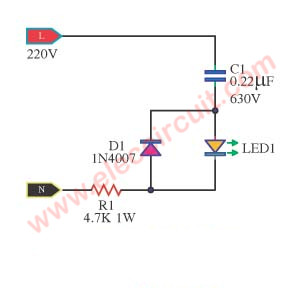 Simplest AC mains voltage indicator circuit diagram
How to connect LED to 230V AC voltage.
We know well that LED uses about 2V at 10mA only. When taking it to AC 230V. It requires reducing voltage and changing to DCV. For the first time, we often use a resistor to reduce the current in the series. But it is not suitable for the high AC voltage. Why?
The voltage across the resistor is too high, about 227V. Then, the current flows through is 10mA, like this LED. So the power of the resistor is about 227V x 0.01A = 2.27W. It is too hot.
The capacitor C1 is key in the circuit. It does not spread the heat out. (In principle)
We know that when the capacitor works in AC voltage. It is similar to a resistor. The resistance of the capacitor is called that Capacitive Reactance, in symbol Xc.
I am really stressed to explain the function of xc with simple text. I will explain to you later.
The Xc has a relationship Between frequency and capacity. If high capacity will be high Xc in the same frequency, 50Hz of AC line.
The capacitor limits the current through the LED to a safe value.
The R1 is limiting resistor to reduce the current. Also, it is the short circuit protection looks similar to a fuse.
The C1 capacitor reduces the current. It works well. When used with AC power. And rarely have problems with heat.
The diode D1 protects LED1 from the negative high voltage or current spike. Although LED1 does not work in reverse bias voltage. But this high voltage may kill its.
Important! You have to choose the capacitor-C1 Capacitors must have a DC working voltage (WVDC) of at least about 630V.
Cautions! Since this circuit no an isolated transformer, so you are careful to direct connect with into circuit. It causes electrical shock to you. AC line is very dangerous. It can kill us. Better way use the tiny isolated transformer.
I hope you are happy with this AC line 220V light display or main voltage monitor.
Related Posts