Simple burglar alarm circuits
At this period the economy not good, Make have steal plentiful. We come to try build the circuit steal model to is simple better. The Alarm Sound (Super Bell) loud forever until will cut power supply to go out. When the Switch of the magnet Senate was opened or strip metal torn. The R1 stand give get the maximum score. Discharge late beside one of the the Switch of the Senate or zone metal goes out. Devalue R1 until will begin change the dot is born the sound , this circuit will use the electricity about 0.3mA that 6Volt use Relay 6V 500ohm. When use voltage 6V – 9V use Relay 9Volt 1200ohm. When use voltage 12Volt , this not difficult circuit. Request a friend enjoys and safe from steal please sir.
If you want a basic than this circuit, here is basic it one transistor alike.
Burglar Alarm model the circuit closes
This circuit works with battery 9V a piece is very small. For the work happens independently don't be under house electricity. The circuit will make a noise to warn work as soon as , detect which be switch model usual close the circuit or aluminium , eliminated separate.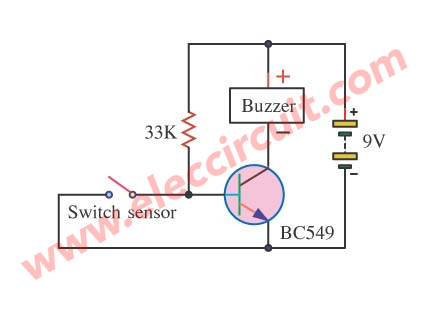 Easy kick out steal
Although the prevent steal or Circuit this be model to be easy the system is simple. but I thinks it may help can protect your assets. The principle is simple be the system Close Wire Loop. It will make a noise to warn when the circuit torn , by this circuit , use the electric energy while standby very low 0.5uA only. But when Relay work as a result use current about 70mA only. The usability can use in an automobile,house door, leak round a house or the other. When an electric line torn system , Relay command give beep danger circuit work immediately.
Related Links
More circuit about alarm home system
More circuit about burglar alarm systems
More circuit about home security alarm system
More circuit about free alarm system
More Circuit by 2N2222
Car Burglar Alarm system with radio wave signal
Emergency power siren 6 watt
Op-amp siren sound using ic 741
Simple Sound Alarm Generator using CD4011
Home burglar alarm with timer delay using one IC 556
Related Posts :
When steal open automobile door relay K1 and K2 work make have voltage 12V give radio transmitter and origin sound part for mix radio waves s ...

This circuit uses IC 556 which have timer 2 the group in one. First group is moto stable and second group does in front is in a state of a s ...