You are meeting tiny visual zero beat indicator circuit. It is suitable for showing to an audio signal or CW tuning indicator. Which is lower than 3Vp-p.
In the circuit uses just two LEDs and one resistor only.
Light-emitting diodes(LED) LED display is the indicator. Since the LED can tolerate 20-30mA, R1 provides more than right current limiting.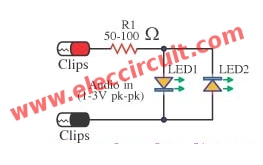 Tiny visual zero beat indicator circuit diagram
Both LEDs are connected in parallel, is a different polarity. They will indicate the zero-beat frequency.
Each LED will work just a half cycle of the input signal only.
When the input frequency is more than 1 kilohertz, away from the zero-beat frequency. Both LEDs will grow in all the time.
As the input frequency comes within about 20 hertz of zero beats, the LEDs will flicker until zero beats are reached.
Both LEDs glow or flicker until zero beat is reached, when they go out.