There is my friend want a TA8225's PCB. But I not have it. Thus I search on internet. The TA8225 is BTL audio power amplifier for consumer application. It is designed for 45W high power, low distortion and low noise. It contains various kind of protectors and the function of stand by SW.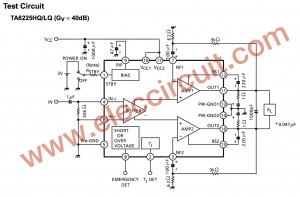 The circuit diagram of TA8225 ICs
In addition, the functions of output short or over voltage detection and junction temperature are involved.
Features
Operating supply voltage: VCC = 9~18V
High power output 45W at VCC=14.4V,F=1KHz,THD=10%,RL = 2 ohms)
Low distortion ratio : THD = 0.015%(typ) VCC = 13.2V,f=1kHz,Pout = 4W,RL=4 ohms.
-Built in stand by function (with pin(1) set at high, power is turned on)
+ Built in output short or over voltage detection circuit, output to VCC and output to GND short. (Pin(8): Open collector)
+ Built in junction temperature detection circuit. (Pin(2): Open collector)
+ Built in various protection circuits :
1.Thermal shut down, Over voltage
2.Output to GND short
3.Output to VCC short
4. Output to Output short
Related Posts