This is 12V DC motor speed control PWM circuit. Which using a TL494 (Switchmode Pulse Width Modulation Control IC) is base for control DC Motor with pulse.
Please detail more:
– For Control speed motor 12V 150Wmax 15A.
– R6 adjust speed motor.
– Driver Motor by Mosfet IRFZ48.x 2pcs.
– Control at Frequency 100HZ
– Adjust PWM duty cycle From 0 to 100%
– Rise and fall time = 10uS
– There is over load current 15A or current limit with current flowing throw R11 and Q1 work to stop IC1
I See from Idea Circuit by joe (aircraftdesigner) Good Elecronics user. Thank you very much.
Source : joe (aircraftdesigner) …..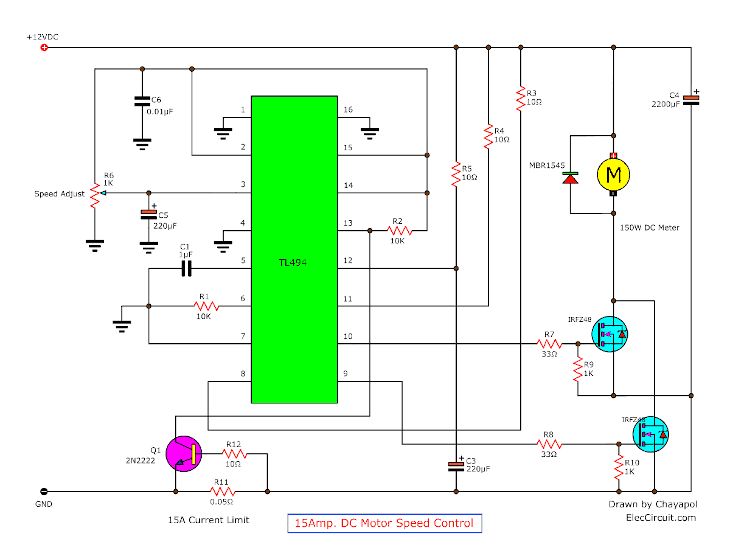 If you like this project.
Please buy here.
(Cheap and Free shipping)
Photo IC-TL494
12V-24V PWM Motor controller circuit using TL494 and IRF1405
If you want high current and full PCB layout please read this.
This is the high quality 12V-24V PWM Motor controller circuit using TL494-IRF1405 for that has the low voltage battery checker system, working with soft start, adjust pulse frequency, use for 12V or 24V battery at current up to 20A. Although small and simple, but could be easily used to create an easy, no need to program software.

Fig:1 Schematic diagram of this projects.
[…..]
Read more