We have many ways to build a metronome circuit. First, using transistor so easy way and cheaper.
But now  I try IC-555 timer. It also easy and drive a speaker directly. Even can emit two sound effect metronome.
It is hard that I tell you. Sometimes you have to build it with yourself.
How it works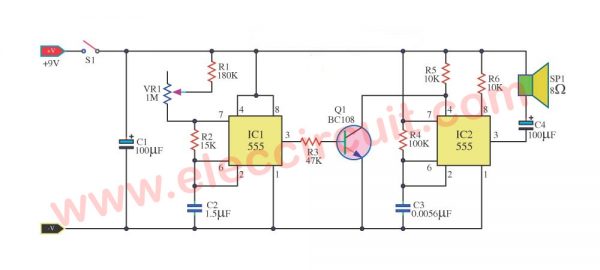 Look at this a 555 metronome circuit. For sound origin Metronome strange music is good.
First, we use the integrated circuit timer. It is highly popular number: NE555 or LM555.
In the circuit above, we use 2 IC sections.
The Frequencies are high and low origin alternates. They can give tone sweet sound.
Also, we adjust VR1 to control sound as want.
This circuit required  a 8 ohms small-sized loudspeaker. Then, we can buy it in all common stores, right?
Have fun electronics!
Parts you will need
GET UPDATE VIA EMAIL
I always try to make Electronics Learning Easy.