This be the circuit filters 10KHz low size frequencies s use IC op-amp the highly popular number uA741. By this circuit convenients for to apply to input and output of the circuit changes analog signal be digital or the circuit changes digital signal be digital. In sound system of digital for synthetic the voice or music give for make wave form output the smooth. And press the noise that happen at output. When small-sized signal was managed with decrypt linear the size is 8 bit.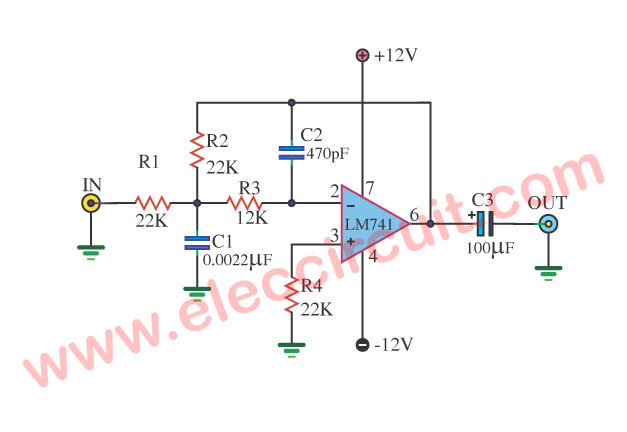 Low Pass Active Filter by LM741
When you want to filter low frequency gives can change only. I thinks the Low Pass Active Filter circuit help you. Because of it uses IC LM741,then usable easy follow circuit image. We can fix the frequency is cut off get, by equipment value R1=R2 = R , and C1=C2=C When fix give 50Hz frequencies low only that can change. Values Show be valuable about 0dB = 50Hz , -3dB = 250Hz , -50dB = 10kHz
Then will see tall frequency 50Hz more cut give until less is finished. This circuit should use dual power supply positive,negative,GND +/- 5V to 18V in order to get a signal that is appropriate most.