If you are looking for a circuit that turns on the relay when the light comes. This can help you. It is a simple light activated relay circuit.
You can use it in many ways such as the alarm circuits, light switch controller circuits, the strobe light photography controller, and more. It will control your electric load to be on-off with the light.
The function of light activated relay circuit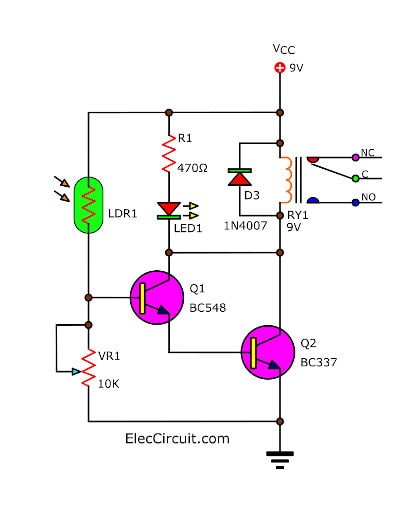 The Circuit diagram of Light Relay Switch using BC547 and BC337
Let's see in the circuit diagram. Both transistor Q1 BC547 and Q2 BC337 are connected together in Darlington compound. So they have a higher gain.
When we shine a light on the photocell (LDR1). Its resistance will reduce. The current flows through it to the base of Q1. The Q1 get enough bias current, so it conducts the higher current. They switch on, to turn on the relay, and LED1 grows.
R1 limits the current to LED1 with safe value.
D1 absorbs the current spikes to protects the external relay driver.
We can control the sensitivity of the circuit by adjusting VR1.
If we set its resistance is low, the sensitivity of the circuit is also low. But we set its resistance is high, is high sensitivity, too.
Construction
This circuit is easy. So you can assemble them on perforated PC board. But you want to solder the components on the PCB below.
Testing
First of all, Check and check circuit again. Second, try to enter a power supply source in the circuit. Then, adjust the VR1 to sensitivity by you want. Last, shines a flashlight on the photocell. You will hear the relay pulls in. It works.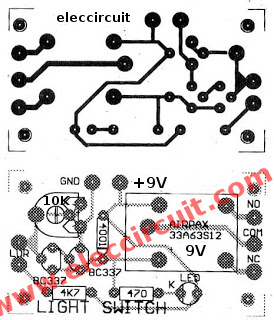 PCB layouts and Components layout of the Light Relay Switch By BC547 and BC337
Related Posts