This is a LED Indicator for remote AC loads Circuit. At very cheap and use electronic part a little. This circuit uses diode rectifier cheapness, Resistor and LED only. As a result, assemble the circuit shows flowing from AC current Source in load easily.
Although intended to design for applying to office implement with main electric, we may modify this idea goes to are usable with the level low voltage get not difficult, please.

Circuit diagram of LED Indicator for Remote AC Loads
Simple LED AC power indicator circuit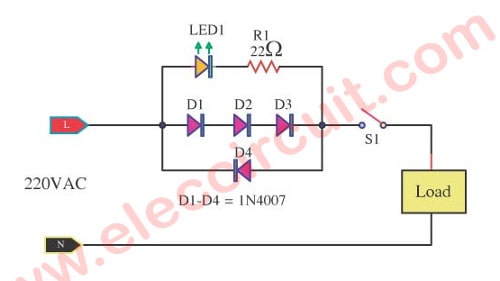 From originally at we use the way checks the condition of AC power Load by a temple AC Voltage. But when using this Simple LED AC power indicator circuit. You can check the event can work by check AC current flow through the load.
This circuit easily in case of Load and control switch stay far from the stall shows. Because misfire stands an electric line from load again the group. This circuit easily uses electronic parts a little with being normal rectifier diode 4 pcs, Resistors 1 pcs and LED 1 pcs only.
It is, as a result, can know that have current change load get already although. This circuit will suit AC house electric but this idea still can go to is using that is high-class low voltage get. By make volt be down 1.5V always just.
Keep reading:
Related Posts