Today I receives electricity old printer from a friend. I think it can't is usable , but power supply circuit still can be usable , modify be power supply source in electronics all work. I then build to is DC Power Supply 9 Volt Regulator, that can give current get about 1 Amp arrive at 2Amp.
I recommend the 3 circuits.
1. Power supply 9V by TIP31 transistors.
I sees part already modify transistor TIP31 and part come to can be usable well. By this circuit can give voltage 9 Volt at 1 Amp, be stable or can fine can decorate 6V to 12V with VR1 control. For Transistor TIP31, a friend can use other number all right such as TIP41 , MJE3055 , 2SC1061 etc. But must stick heat sink be appropriate with. The part BC182 use other number can replace get.The detail is other , see in the circuit.
Sometimes you may not need to use the upper circuit, because high current over for you. I think these below circuit may be want to you.
2. Simple 9Volt positive voltage regulator
If you want positive voltage regulator 9Volt. I sizes beg for to suggest the nine s wander this , because it easy is good, the equipment is , seek easy with see the circuit has already. Friends must appear familiar certainly. It uses transistor ordinary just this , by friends use get many the number such as , 2SC1061 ,TIP41,MJE3055 , etc. And control voltage Regulator be stable at 9 Volt with Zener Diode 10V 0.5watt. From this circuit can give current get about 1A, because of use Transformer 1Amp size and Diode Bridge 2Amp. For other detail , friends please see in the circuit better sir.
picture of TDA1521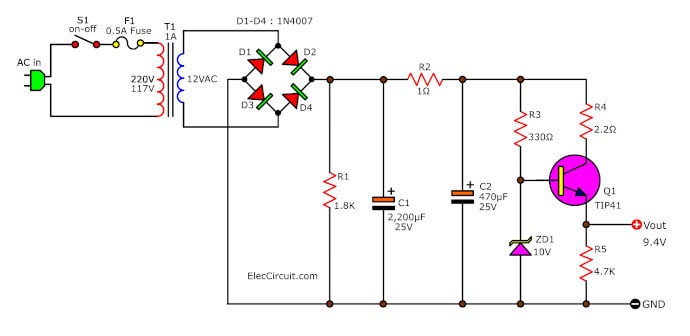 3. 9V Regulator low current Supply
Today I seeks mini power supply regulator give friends try out again. Be fixed voltage regulator 9V size. It uses transistor be pillar equipment perform boost up current tallly go up about 300mA. And by have Zener Diode perform steady voltage at 9Vdc. The detail is other a friend sees in the circuit please yes.

Other circuits involved.
---