Turn down the music, please! When your music is too loud. People do not like it. This circuit can help you. It is a simple automatic sound control circuit diagram. Sometimes amplitude of a signal is the difference in voltage. This circuit will control the amplitude to a stable level.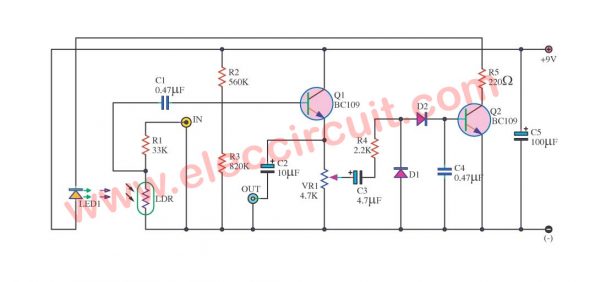 Simple automatic sound control circuit diagram
How the circuit works
Let's see in the circuit. It requires a 9V power supply, such as the 9V battery.
The sound signal comes to the input of the circuit. It flows the first preamplifier that includes C1, R2, R3, Q1, VR1, C2. The Q1-BC109 is a transistor amplifier. The signal flows it will rise up to the output.
Some signal comes to coupling capacitor-C3 and R4, into the second audio amplifier pattern. Which they include D1, D2, C4—voltage doubler—, Q2, R5, and LED1. They are working like the switch on-off the LED1 with that some signal.
If the input is high amplitude. Then a small current at the base allows a much larger current to flow between the emitter and collector. The Q2 is a switch on, LED1 grows.
It makes the resistance of LDR is lower. Since we connect LDR1 and R1 in voltage divider pattern. So the voltage across LDR1 is lower, the preamplifier also turns down the music to the speaker.
VR1—adjust the sensitivity of circuit or level that cut of the amplitude.
I hope this will be the ideals of your project.