If you are looking for a nice amplifier for your private room. There are a lot of choices for you. A transistor is good, but the IC also well. Today I suggest you try to test HA13118. It is 18 W BTL Audio Power Amplifier for Hitachi.
I like the AC motor for Hitachi. It is very durable. Good quality, even a brand from Japan. Of course, an audio IC is the same.
Why should use it
The HA13118 is a class AB amplifier integrated circuit. Hitachi designs them for component car stereo amplifiers. At the power supply voltage of 13.2 V and 4 Ω load speaker. This power IC provides an output power of 18W with 10% distortion.
In general, we use it in the bridge amplifier in a car.
They have basic features as follows.
You can use it anywhere. Because It requires wide voltage supply of 8V to 18V in single voltage.
At the current of 1A to 2A.
Output current Io (peak) 4 A
Power dissipation PT 15 W
But max voltage is 26V
Typical gain rates up to 55 dB.
Less than 0.2% distortion at 1W
Response frequencies from 30 Hz-30 kHz.
Operating temperature Topr –30 to +80 °C
Small outline package, easy to mount
Internal each protection circuits

Surge protection circuit
 Thermal shut-down circuit
Ground fault protection circuit
Power supply fault protection circuit
How does it work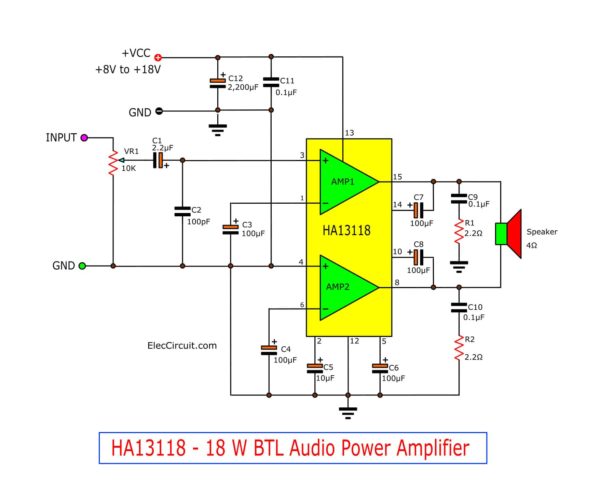 See in the circuit above. Enter a power supply circuit, 12V. And then, enter an audio signal into the input.
The signal flows through VR1. To adjust the level of the audio signal. Next, the C1 pass coupling signal to the input of IC1. And, the C2 eliminate the noises.
After that, the audio signal gets into pin 3 of IC1. This is a bridge amplifier form(BTL).
If you love Car amplifier circuit. You always see BTL amplifier. Because it gives high power in the same voltage.
See circuit inside the IC has Left and right channel. We connect both amplifiers together. To increase more power wattage.
We can observe from the pin 15(left channel) connects one wire of speaker. And pin 8(right channel) connects to another wire of the same speaker.
Which the C7 and C8 will feedback a signal to be frequency response better.
And, The C9, C10, R1, and R2 will reduce the noise signal.
We hear a lower annoying hum in the background of power amplifiers. Because we add C11 and C12. If you increase C12-2200uF electrolytic more. It will reduce the ripple voltage of the voltage power supply.
Parts you will need
IC1: HA13118 18 W BTL Audio Power Amplifier
R1, R2: 2.2ohms 0.25W resistor
VR1: Potentiometer 10K
Electrolytic capacitor
C1: 2.2uF 50V
C3, C4, C6, C7, C8: 100uF 25V
C5: 10uF 50V
C12: 2,200uF 25V
Ceramic capacitors
C2: 100pF 50V
C9, C10, C11: 0.1uF 50V
Speaker 4 to 8 ohms
Power supply 8V to 18V at 2A.
GET UPDATE VIA EMAIL
I always try to make Electronics Learning Easy.