We like a 2N3055 Power Amplifier Circuit. Although the it is the very ancient transistors, but it still have a lot of classic and very good sound. It is popular forever, very cheap, easy to find, easy to use. We recommended the 2N3055 power amplifiers circuit with PCB list below!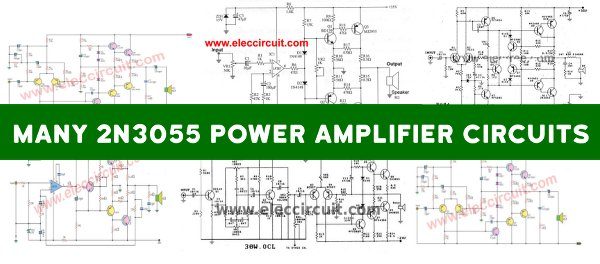 30w OCL integrated amp with PCB   If you want to create the integrated power amplifier project for the first time.In addition, we will use ICs because It's convenient and modern. But I often recommend this project 2N3055 amplifier circuit. The output power is 30 watts RMS, using all transistors. You may like it.
40W to 55W transistors audio amplifier   This circuit is one that stands out for ages over 40 years, with sound quality that is hard to find compared be other circuits. If you experimental build or ask people who try already built. Will believe that this is not as exaggerated statement more than true.
50W OCL main amplifier using LF351-2N3055-MJ2955 with PCB  This 50W OCL main amplifier circuit has high quality,economical and also easy to build too. Because it is designed simple, It can be easily created in your friends, An electronics rookie. And cheap when compared to other speakers, the as same volume level.
Power Amplifier OCL 70 watts using IC-741, 2N3055   It is Main Power Amplifier Circuit 70Watt RMS sizes are model OCL Class AB. Use pillar equipment be IC 741 and Transistor 2N3055,MJ2955 a little this equipment circuit. If friends want get electric tall power about 70Watt should use Voltage Supply +38V , […]
Integrated power amplifier OTL 35w by 2N3055   If you want build power amplifier that low watts and easy to builds. We recommended this circuit because it is OTL use single power and without the speaker protection circuit.
100 – 120 Watts Amplifier circuit   If you are looking for a 100-watt OTL amplifier circuit, For the job a small PA system, The news spread in the village or the sound system for the conference. I recommend this circuit, Because sound is very loud. When compared to other circuits at power are equal and very durable.
3 Simple/ 50W-OTL Audio Power Amplifier Circuits using 2N3055   These are 3 simple 50w OTL audio amplifier circuits using 2N3055 as main parts. We can build easy and cheap. It's durable and very loud sound , Not needed speaker Protection. We use all transistors and LM3900 below.
Note: You can see others transistor power amplifier.